Planning a family vacation at the beach is just as fun and exciting as going to many other places. There's just one main difference: packing for the beach calls for more essentials than it would normally take to pack for your average trip.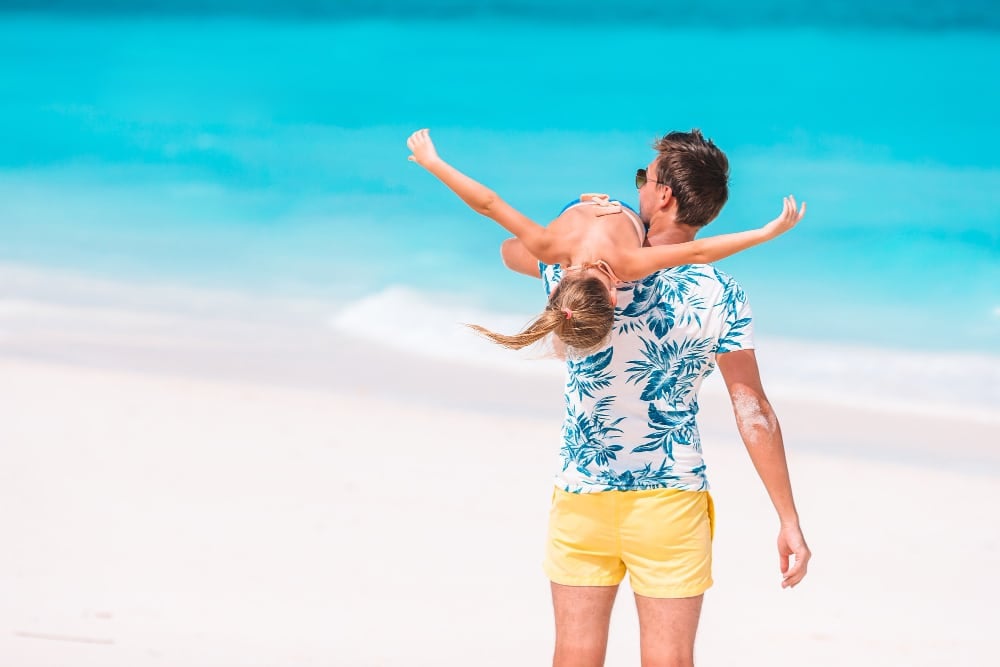 Planning A Family Vacation On The Beach
But, if you follow these simple steps, you'll be able to prepare in no time.
1. Sun Protection
You have to pack sunscreen and a hat. Make sure the hat is large enough so your shoulders and neck are covered as well. You'll also need to pack sunglasses and maybe even an umbrella or parasol if you're prone to get burned easily.
If you're going to be out in the water, consider packing water shoes as well, since most people don't want their feet constantly touching hot sand that may burn all day long! Sun protection is important because it will help ensure that you and your family remain healthy and avoid getting too much exposure.
2. Outfits and Clothing
People who are going to be spending a day at the beach need clothes that they can wear in the water as well as on sand. You have to bring a bathing suit because there is no way you won't want to go in the water right away and that way, if it's hot enough, nobody will have an excuse not to jump into the water!
If you surf, you will need surf clothing that you can get at some stores like Southern Man Surf Shop or some other shops you find. Having the right clothes will also help ensure that you and your family remain comfortable, so you can enjoy the experience to its fullest.
If you are looking to learn how to surf, this is a great place to learn.
Beachwear is not hard to find, you can even go to the nearest mall right before your trip and buy what you need.
3. Fancy wear for dinners
You will need to dress up for dinner. You may be able to go in casual wear, but you want to pack at least one nice outfit per person so that way if you want to have a nice evening out together.
Furthermore, you can also think of bringing fancy clothes, just in case there are any parties on the beach where everyone dresses up! This is especially important if the family is staying somewhere more upscale. Fancy wear is not difficult to find, and it can easily fit into your luggage.
A pair of sandals with straps for women to keep it classy but comfortable, and some nice white sneakers for men for a more casual look.
4. Entertainment
One of the most important parts of planning a family vacation is making sure that everyone will be able to have fun. Planning out some activities for a day at the beach can ensure that you and your family have a good time.
If you're going to be near a boardwalk area or some kind of pier, there is likely going to be plenty of opportunity for fun. Bring a football or two so that way, if anyone wants to toss it around with each other, they will have any equipment they need!
Even bringing along a Frisbee can provide hours of fun when played on the beach. You should also consider checking out tourist guides in order to find out about any nearby attractions, including zoos or museums, that a beach may offer in a town!
5. Food and drinks
Bring a cooler filled with extra food, snacks, and drinks. You don't want to have to walk around the beach always looking for them. Also, your kids will probably always want something to snack, so pack a nice cooler with their favorite foods.
And if you're going to have a particularly long day, it's always a good idea to bring some extra food and drinks to ensure that everyone gets the energy they need. Food and drinks are not difficult to find in local stores, so there is no need for you to worry about spending time looking.
6. Have fun and let go of the worries
When it comes to planning a family vacation, you want to ensure that everyone is going to have a good time and will be able to relax. The last thing you want is for someone in your family to feel stress or tension throughout the trip, so make sure they understand how much fun this day at the beach is going to be!
Letting go of work concerns and stress at home is very important because it lets everyone enjoy their time together.
You can follow these steps in order to plan a family vacation on the beach and stay organized throughout your trip.
By bringing everything listed, you'll be able to plan out a family vacation well enough in order to make sure you and your family remain comfortable and happy the entire time!