With fun in the sun, sandy beaches, and endless ocean waters, a family beach vacation is a perfect choice for any family.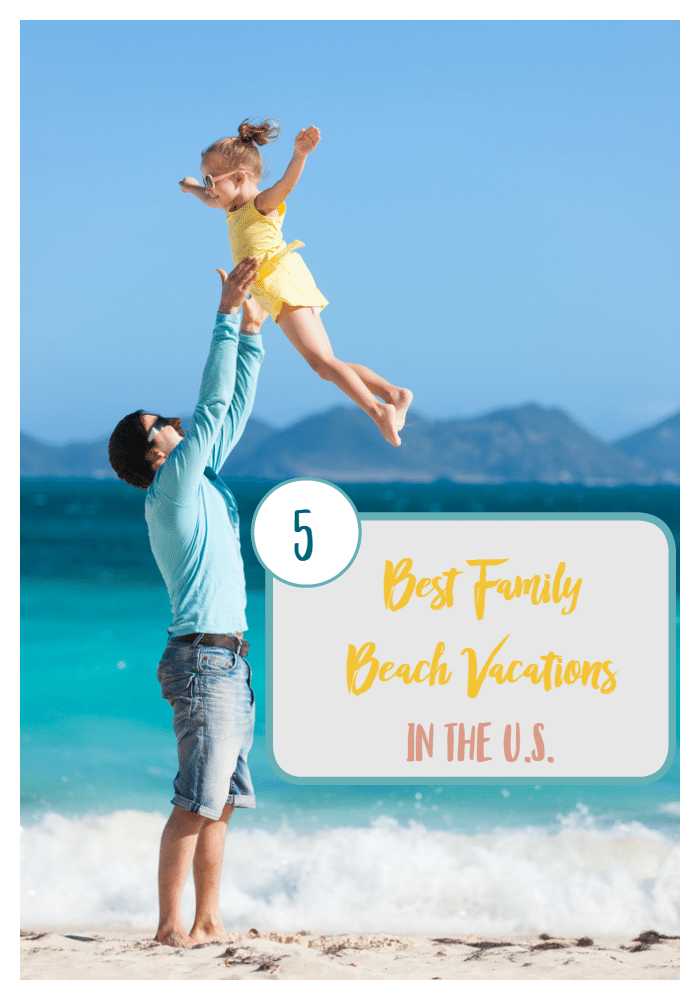 Family Beach Vacations
There are so many options for beach vacations in the United States, it's hard to pick just one.
Here are a few of the options for the 5 best family beach vacations in the U.S.!
Pensacola Beach
Florida
White sandy beaches and Gulf Coast waters make Pensacola Beach a family favorite!
One of the Top 25 beaches in the world, Pensacola beckons travelers to the Gulf Islands National Seashore and sand that can easily be mistaken for snow by its color. The iconic beach ball tower lets beachgoers know that they have arrived for a Santa Rosa Island experience like no other.
Summer waters are extremely warm, and although shells can be found on the beach, the white, soft sand is perfect for sunbathing.
Rent a boat, try some oysters at Peg Leg Pete's, and check out the Dog Beach for the four-legged members of your family!
While nearby Panama City Beach is perfect for college Spring Breakers, Pensacola Beach is family-friendly with playgrounds, soft sand for families to lounge and build sand castles, and the best shopping and eats for your whole crew!
Mother's Beach (Long Beach)
California
If your family has very young children, this may be your favorite on the list! Mother's Beach is aptly named for the shallow waters, light waves, and available lifeguard supervision.
Grassy play areas and playgrounds as well as a picnic area are part of the great amenities here!
Galveston Island Beaches
Texas
Galveston Island boasts 32 miles of Gulf Coast beaches in the Lonestar State. East Beach has festivals and concerts throughout the summer months. Stewart Beach comes with high recommendations for families with their children's playground and regular lifeguard supervision.
Take a break from the water and head to Seawall Urban Park where you can walk the nation's longest continuous sidewalk before hopping back in the water.
Visit nearby Galveston Island Historic Pleasure Pier Amusement Park to delight the young and young at heart in your family. These are just a few of the many beaches Galveston has to offer families.
Cannon Beach
Oregon
One of National Geographic's most beautiful beaches, Cannon Beach is a delight for families of all ages. Gaze upon Haystack Rock, a 235 foot landing point for puffins and other breathtaking wildlife.
This picturesque beach features family-friendly festivals and experiences for all ages.
Hilton Head Island Beach
South Carolina
One of the most family-friendly stretches of beach in the country is in South Carolina!
Before anything else, plan your stay when you go here. There are a variety of vacation rentals in Hilton Head that are perfect for a family getaway.
Hilton Head is home to a public beach with various public access points. Gorgeous artwork and sculptures can be seen on the beach.
There are several parks and playgrounds where kids can play while you and your family enjoy a picnic lunch.
The Sandbox, an interactive Children's Museum, is a nice stop out of the water to create artwork, check out a saltwater aquarium, play with puppets, role play with a model grocery store and bank, and so much more!
Whether you'd like to build a sand castle, hit the waves on a boogie board, or check out the great amenities in a beach town, these three places are a hit when it comes to the 5 best family beach vacations in the U.S.!