Disclosure: Disney provided me with an all-expenses paid trip to Los Angeles to attend the red carpet premiere of Planes. All thoughts and opinions are 100% my own.
Earlier this week I was able to visit Los Angeles to attend the world premiere of a new animated film, Disney Planes. This was my first time to experience the red carpet in any sort of fashion. I was not sure what to expect. And, just like anything else Disney comes in contact with, the premiere was put on in superb fashion.
Disney Planes
As we walked to the premiere from the Roosevelt Hotel, we could see right away that plenty of people were all over Hollywood Boulevard. Each of them were waiting to catch a glimpse of a Disney Planes superstar.
Once on the red carpet (laid out to look like a runway), you could feel the atmosphere intensify with enthusiasm and excitement. The first person I saw walk onto the red carpet was the Executive Producer, John Lasseter. He is known for a great amount of movies and they include Cars and Toy Story, as well as Toy Story 2 and 3.
After spotting him, we continued down the air strip, aka the red carpet to see more of what was taking place. I, of course, needed to catch the moment for myself. It was at this point that I believe I was the most excited about being at the #DisneyPlanesPremiere. The moment became real and I knew this was really going to happen. Weeks of anticipation all came down to this memory being made on the red carpet.
There were all kinds of people that made their way into the Target Landing Zone to play games. Vendors were set up with carnival style games and you could grab a quick bite to eat before the movie. I was even able to walk away with a few prizes that I knew my girls would love when I got home.
Being able to take a glimpse at the ornate decor of the El Capitan theater before we went in to watch the movie was incredible. The craftsmanship of the theater was only enhanced by the amazing, live balloon display standing out front.
The carnival-themed, pre-premiere party had so many fun games to keep everyone entertained before the movie began. Games like Bullseye Balloon Pop and "The Claw" game from Toy Story. Of course, I had to give them all a try. After all, we were there to have a bit of fun!
One of the things I really enjoyed about the party was that everyone was a winner with the games… especially the kids that played. Target had a great selection of toys on hand. I cannot wait to see these toys in our local store!
Celebrities and More
Just like the rest of the hundreds of people lined up along side Hollywood Boulevard, I had a few people I wanted to see from the film. I may not be the best at remembering celebrity names, but I do know and can recognize a handful of celebrity faces. So, after playing a few games and hanging around with my blogger companions, I set out to find the one entertainer I really wanted to see from the film. First, it was good to see a familiar smiling face from an old favorite: Full House's Dave Coulier.
After visiting with "Joey" for a little bit, I pushed on to possibly rub elbows with the big guy I was searching for. I found a nice spot in the shade to scope out the red carpet and do some people watching. As I was standing in wait, Jason Priestley from 90210 just appeared and stopped right in front of me. I thought for a minute that I should ask for a photo with him, but then noticed he looked a little concerned, so I passed.
When security started corralling everyone on the red carpet to move towards the entrance of the El Capitan, I got really excited to finally get inside. I stepped up from the street side onto the side walk and, to my delight, I found that someone I was actually giddy about seeing. I was walking right next to Gabriel "Fluffy"! He voices two characters in the movie: Ned and Zed. I, perhaps aggressively, made my way closer to him to ask for a picture. He willingly obliged and as he leaned in he told me, "Make sure to say cheeeeese!" And I did as I snapped the shot.
After giving my thanks to "Fluffy", I finished making my way into the theater to grab a soda and popcorn. The El Capitan is not like any other movie theater I have ever been in. The attention to detail inside and out is phenomenal. Walking in, I noticed there was a small number of seats. But, as I continued to look around, the balcony was revealed with another large group of seating. Row C, seat 106 was me. Right in the middle of the theater… three rows back from the silver screen. I was more than happy with my seat. As movie-goers made their way in to the El Capitan Theater, you could not help but notice the organist on stage playing some favorite Disney themed songs. When the lights dimmed, the theater was quite and all eyes were fixated on the screen. It was time to sit back and enjoy Disney Planes.
After the movie, I was making my way across the lobby floor and was able to snap a photo of "Dusty" (Dane Cook) and "Dottie" (Teri Hatcher) talking. The two of them were surrounded by a few security personnel that asked for us to move on. So I grabbed what I could with my camera as we passed.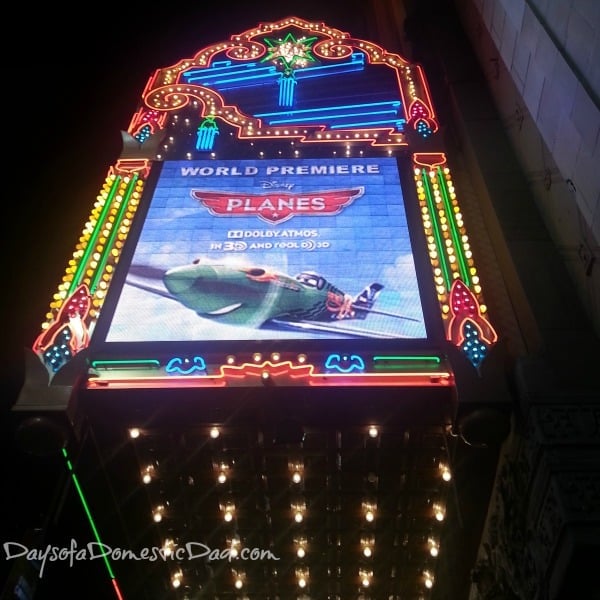 I loved Disney Planes and cannot wait to share my review of the movie later this week. I believe it will be a hit and that it will touch everyone… young and old.
Social
I recommend that you follow Disney Planes on Facebook and Twitter for more info about the movie. You can see it in theaters everywhere starting August 9th!