Valentine's Day Mosaic Heart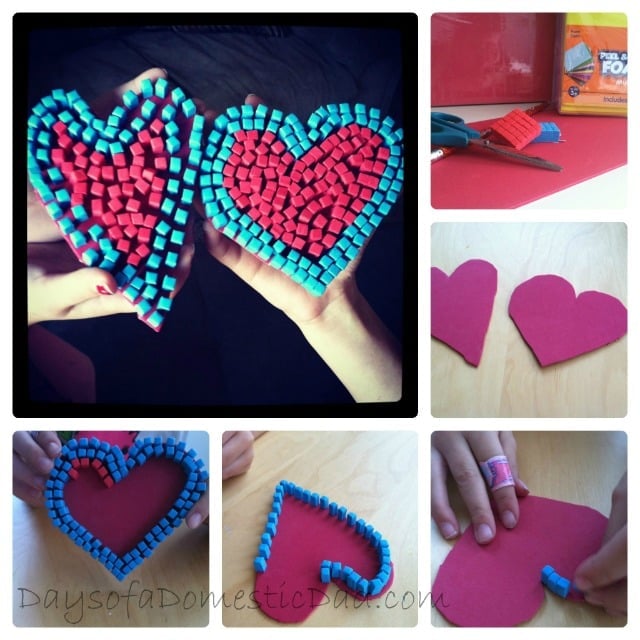 A few days ago the girls and I sat down and wanted to do a craft for Valentine's Day. Yep, I said Valentine's Day. It is less than 30 days away. After looking on Pinterest and trying to find some ideas, we collectively decided on a Mosaic Heart. It looked easy and did not require any crazy supplies.
Supplies:
red foam sheet

red and blue foam tiles cut into small squares (pre-cut optional)
pencils
scissors
glue
Directions:
Draw a heart on the back side on the red foam sheet and cut it out.
Take the (pre-cut) foam tiles and place the blue foam tiles on the outer edge of the foam heart. We placed two rows around the edge.
Continued on the inside of the heart with the smaller red foam squares. Start on the outside and move towards the inside of the heart until complete.
Craft Days with Daddy
I should also mention that while we were working on the mosaic hearts our little monkey (my youngest daughter) needed something to do also. We sat her down with a few crayons and a coloring sheet. She is always wanting to do what the other two are doing and this satisfied her desire to also have a craft day with daddy.
The girls had fun once they began to see their hearts fill up with the red foam tiles. I told the girls that we would work on more crafts soon and have more Craft Days with Daddy. Now we are looking for something to put together to take to their classmates at school for the Valentine's Day party.
Do you have any ideas? I would love to hear the so we can get our craft on again.