Disclosure: I was provided a code to download My Dolphin Show for review purposes.
Dolphin Adventure
Ever since our family cruise last year our family has had a ongoing passion for dolphins. We took the opportunity while we were at Cozumel to visit Dolphinaris swim cove. This is an awesome place if you want to get a close encounter with a full-size dolphins. The kids loved being able to get in the water, with an instructor, and interact a dolphin. The best part of all is when we had a chance to receive a quick kiss from our under water friend.
Joeli was probably the most excited out of our group to come so close to a dolphin. So to fuel her love for the flipping friend, I downloaded the My Dolphin Show game from the Apple iTunes store. We uploaded this game to her iPad and just loves it. This app is age appropriate at 6-8 years of age. The functionality and colors
My Dolphin Show App
The dolphin trainer and her dolphin are ready to impress the audience with a specular show. This is not a small aquarium, but a big show like you would see in Sea World or any other water park.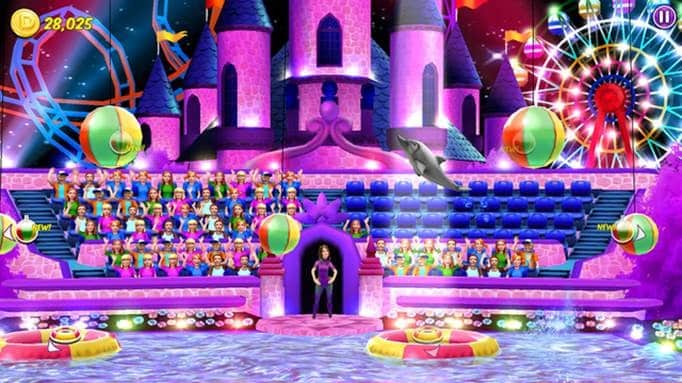 These are the tricks your dolphin can do:
Beach ball hit, donut jumping, hurdle jumping, splash the audience wet, jump through rings, score a soccer goal, coin collect, piñata smash, air stunts, water walk, bowling, basketball, love kiss, golf, volleyball, collect fish from the trainer, underwater ring, fetch the ball, hit the bell and many more fun tricks.
The game has 72 levels and more are coming. You'll be putting on shows in these locations: Hawaii, Cruise ship (love boat), Las Vegas, theme park, water amusement park (coming soon!).

Go for Olympic gold and swim through the coral and win those 3 golden stars in each show!

It's a family game suited for kids (boy and girl) and grownups. You're never too old to enjoy dolphins.