Are you looking for some fun, active ways to engage your kids in the garden? Then look no further than these four fantastic garden games (mud kitchen for kids, trampoline, climbing frame) that are guaranteed to get them moving and having a blast!
Whether it's an obstacle course, trampoline competition, creating their own playhouse, or setting up a mud kitchen, you and your kids will be sure to have a great time while getting some good physical activity.
Obstacle Courses
A classic way to get your kids active and having fun is by building an obstacle course in your garden. This could include anything from balance beams and climbing walls to crawling through hula hoops.
The best part is that the materials for the course can be as simple or complex as you'd like. If you're feeling crafty, you can even repurpose old outdoor furniture pieces such as chairs and tables into makeshift obstacles for your children to tackle.
You can also use items like tires or planks of wood instead of store-bought items. With enough creativity and imagination, you can create an awesome obstacle course that will keep your kids entertained for hours!
Trampoline Fun
Children's Trampolines are an ideal way to get your child active in the garden. It encourages physical activity, promotes balance and coordination, and provides hours of fun for kids of all ages.
Trampolines are designed to absorb shocks, making them a safe way for your child to exercise without the risk of injury. In addition to providing excellent physical exercise, jumping on a trampoline also helps strengthen muscles, improves flexibility and increases reflexes, as seen here.
Furthermore, using a trampoline can make exercising outdoors more enjoyable for children as they can jump higher and farther than on regular playground equipment like swings or seesaws.
Not only will your kid benefit from the physical health aspects of jumping on a trampoline, but they'll also develop their social skills as they interact with friends while having a blast bouncing around the garden!
Mud Kitchens
Mud kitchens are a great way to engage your kids in outdoor activities and learning. Not only are they fun and creative, they also encourage children to explore nature while developing their motor skills.
Mud kitchens can be built easily with just a few items found around the garden or home, such as an old sink, crates, potting soil and clay. When combined with natural objects like rocks, twigs, shells and leaves, kids can create delicious mud pies, use various tools for stirring and scooping, pretend to cook meals from across the world, or simply explore in different ways that nourish their curiosity.
In addition to being educational and imaginative playgrounds for young minds, mud kitchens provide a safe environment for kids to get active and exercise their bodies in a natural setting.
Climbing Frames
Climbing frames are an excellent way to promote physical activity in kids when playing in the garden. The structures provide a fun and safe way for children to engage with a variety of activities such as scaling, swinging, and sliding.
Not only do they offer physical benefits such as improved coordination, strength and agility, but they also provide an opportunity to use imagination and foster problem-solving skills through creative play.
They help children develop healthy movements like climbing, jumping and balancing which are important to overall fitness. Climbing frames can be adjusted to suit the growing needs of your child, ensuring years of use even as their abilities progress.
Installing one in your backyard is an ideal way for parents to encourage active play that is both challenging and rewarding for their child.
Wood Playhouses
Wood playhouses present an exciting way to get children involved in the garden and active outdoors. The versatility of a wooden structure allows for the addition of slides, swings, and other outdoor toys that can help children develop their motor skills, coordination and teamwork while having fun.
Additionally, they provide a safe environment to explore nature, learn about insects and animals, and experience the outdoors with friends. Wood playhouses are also an aesthetically pleasing addition to any garden and create an inviting atmosphere for imaginative play.
Furthermore, since wood is such a durable material, it will stand up against any kind of weather conditions without needing maintenance or repairs. With all these benefits combined, wood playhouses are an ideal way for parents to encourage outdoor activities with their kids while creating lasting memories that will last a lifetime.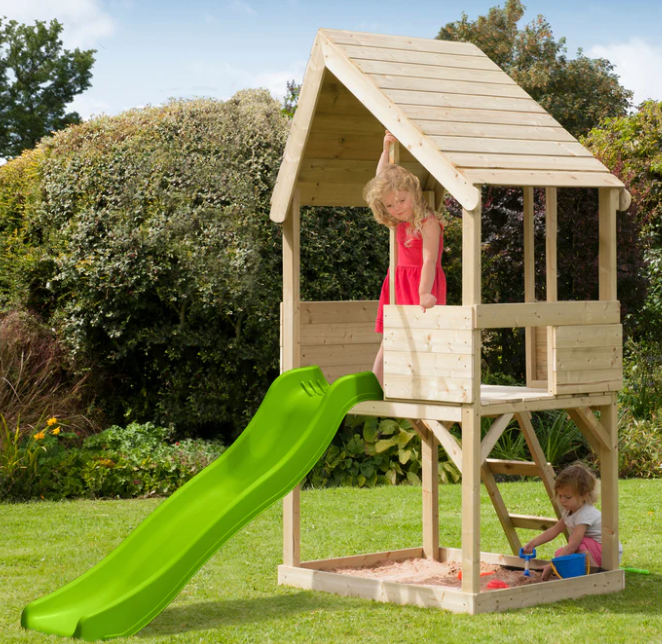 Conclusion
Getting outside doesn't have to be boring – there are so many unique ways that parents can help engage their children in fun activities while still getting them more active at home!
From children's trampolines to mud kitchens crafted from household supplies, there's something here for everyone's taste buds (and budgets!).
So don't wait any longer – get those kids outdoors today with these four fantastic garden games!