Disclosure: I received a pair of Dunham Shoes in order to facilitate this review. No other compensation was given. All opinions are my own.
With Summer upon us, it means more time outside. Whether it is playing with the kids or having an afternoon cook out, it seems that we are usually busy all summer long. There are a variety of activities with our friends and family that keep us busy the entire season. And, as a father of five, I am not always looking like I am on my top of my game when it comes to appearance. Sadly, I have dropped my guard when it comes to dressing to impress and the kids are not ashamed to mention it. I know I do not have to impress anyone, but I am sure my wife and kids would appreciate seeing me in something other than raggedy old clothes and shoes every once in a while. Yet I also like to be comfortable.
Comfortable and Stylish
I am trying to get it my look back together though. You know, spruce up my look a little. As I looked online, I found plenty of great shoes… just not exactly what I was looking for. I wanted to be able to be both comfortable and stylish. Yet, I did not want to worry about messing up a pair of nice "kicks". My 3 year old alone keeps me on my toes and moving constantly. I need a pair of shoes that keep my feet feeling well but, at the same time, will take the punishment from the asphalt, grass and mud.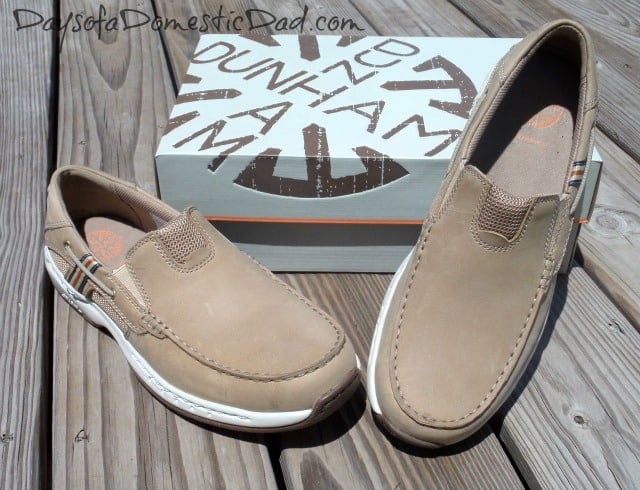 Dunham Shoes
Since I have always been a fan of New Balance athletic shoes, I tend to notice the brand while shoe shopping. I am more confident when I can purchase a brand that I am already loyal to. Therefore, after scouring various shoe sites, I discovered Dunham Shoes. The interesting part for me being that New Balance has a joint venture with Drydock Footwear… the home of Aravon, Dunham, and Cobb Hill brands. Meaning, New Balance took the sole of its athletic running shoe and meshed it with Dunham's boating shoe line. Then, together, they came up with a stylish but stabilizing non-slip shoe for men. Perfect and exactly the type of summer shoe I was looking for!
I ended up choosing the Dunham Windward casual shoe in a linen color. The soft upper leather canvas is easy to the touch, and the Abzorb® cushioning in the forefoot and heel is perfect for shock absorption. Combined, they make for an extremely comfortable shoe. Plus, the boat-style shoe seemed to fit my personality and the casual style of clothes I typically wear.
If you would like to try a pair of Dunham Shoes for yourself, use BL613DomesticDad when placing your order online. (10% Off + Free Shipping)
What do you look for when making a shoe purchase? Comfort? Style?
Social Media
If you would like more info on Dunham Shoes, like Dunham Fits on Facebook or follow along on Twitter.