Patios are often selling points when house hunters are comparing homes. After all, who can resist the idea of relaxing or dining outdoors when the weather is nice? However, even the nicest patio has its limitations if it is open to the sun and weather. With that in mind, each year, thousands of Texas homeowners have patio covers professionally installed.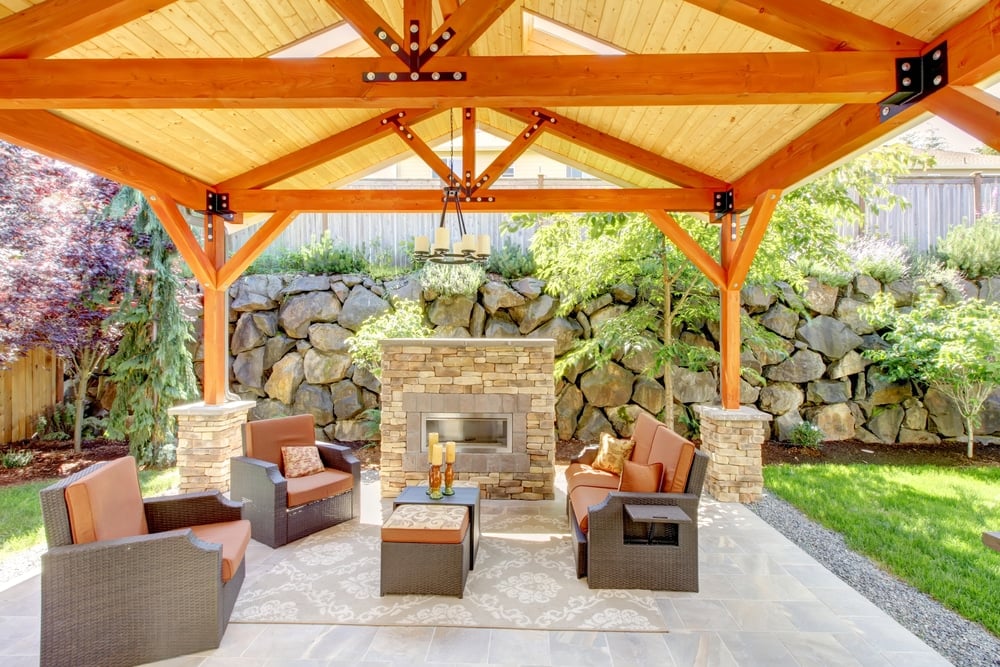 Benefits of Detached Patio Covers
Covered patios are ideal for entertaining or just cooking and dining outdoors under an sunbrella parasol. Covers are easy to care for, add interest and value to homes and increase living space. They help protect homeowners' belongings and can reduce energy costs. A patio with a covering can also be used in any season.
Homeowners Conserve Energy
Patio covers are eco-friendly. Companies like Texas Home Improvement can install quality covers that help lower utility costs during Texas summers. Covered areas prevent the sun from shining directly into windows and generating heat. The result is reduced energy use and lower bills.
As a bonus, covering patios can also create cooler home interiors by acting as a second barrier to the sun. While most people do not think of cooler homes when they cover their patios, it is one of the important benefits.
Patios Become Entertainment Areas
According to Forbes, outdoor living has become more popular than ever, partially because homeowners who were forced to quarantine in 2020 discovered the value and pleasure of outdoor activities. With that in mind, more people are creating outdoor living spaces by taking steps such as covering their patios.
Covering a patio can make it ideal for everyday entertainment, hosting parties, and special events. Many people are also adding grills or even outdoor kitchens.
Homeowners Expand Their Living Space
A covered patio area equipped with furniture and a cooking area extends owners' living space. Cooking outdoors eliminates unpleasant kitchen odors and the need to constantly clean the kitchen.
Covers provide shade that allows residents to relax outdoors and read, visit, or enjoy spending time in nature. Many people even sit in their shaded areas and enjoy morning coffee.
Covered Patios Can Add Beauty
Professionals who install detached patio covers offer various styles and designs that meet customers' needs and complement their home decorating style. Clients can order anything from colorful canopies to sturdy decorative coverings that turn outdoor areas into elegant, eye-catching spaces.
Homeowners can also enhance covers by adding climbing flowers and vines. Many plant climbing roses, trumpet vines, or bougainvillea to turn their backyard recreation areas into living, breathing sanctuaries awash with color and beauty.
Home Values Increase
Well-designed outdoor living spaces have always attracted home buyers, but features like covered patios are now going to the top of many house hunters' lists. When homeowners cover their outdoor spaces, they instantly increase property values and the chances of getting a good price when they sell. Even if owners have no plans to sell soon, installing a cover lets them spend more time outdoors, enjoying their backyards.
Covers Protect Outdoor Furniture from Bad Weather
Homeowners often invest a lot of time and effort in creating an outdoor oasis that includes furniture, a cooking area, and decorating elements like rugs. Without protection, owners either need to bring furnishings indoors during bad weather or take a chance they will be ruined. Patio coverings can solve the problem.
A sturdy cover ensures that outdoor furniture is always clean, fresh, and ready to use any time it is needed. Many homeowners hang curtains around the perimeter of their covers to add an extra layer of protection. No rain, snow, or debris can blow in when patios are enclosed on all four sides.
Sun Damage to People and Belongings Is Limited
Many people avoid using their patios in the summer because of the fear of sunburn or because they are uncomfortable sitting in direct sunlight. A well-designed cover can provide enough shade to cool down the patio area, allowing homeowners to enjoy fresh air in comfort.
A cover also protects belongings from sun damage. Left exposed to the sun year after year, even the sturdiest outdoor furniture will fade. A cover can extend furniture life for years.
Are Markilux awnings Worth Adding to Your Patio?
Awnings are a great addition to any home, and they have a lot of benefits. Not only do they provide shade and protection from the sun, but they can also help reduce energy costs. In fact, awnings can save you up to 25% on your cooling costs in the summer months. Markilux Awnings are some of the best on the market, and they are definitely worth considering if you are looking for a way to improve your home's energy efficiency.
Patio Covers Are Low Maintenance
Professionals who design and install detached patio covers offer a range of styles that include easy-care options. For example, House Beautiful features various low-maintenance choices ranging from simple pergolas to an elaborate model with a skylight and ceiling fan.
Detached patio covers are designed to retain their looks, even when exposed to the weather for years. Contractors offer models made from durable, good-looking materials such as vinyl and galvanized steel. It is also easier to keep patios clean when they are covered. Homeowners just need to sweep from time to time.
A Covered Outdoor Area Can Be Used in Poor Weather
There is a limit on the usefulness of even the most carefully designed uncovered patio. Homeowners are restricted to times when the weather is good. That means their beautifully decorated outdoor spaces are essentially useless when it rains or gets too hot to be comfortable while sitting outdoors.
Once a patio is covered, owners can use their spaces more months of the year even when the weather is not ideal. Many homeowners add drapes for a cozy effect and to keep pests out. Some add firepits to outdoor areas so they can even enjoy patios in the winter.
Curb Appeal Increases
While most people think about the front of a house when they hear the term "curb appeal," it actually refers to a home's exterior attractiveness in general. As a result, a good-looking, professionally installed patio cover can substantially increase a home's appeal.
Taj Residencia is your next approved luxury living accommodation in Islamabad developed by Sardar Group of Companies known to fulfill its promise of being light years ahead and deliver successful projects. It is located near the I-14 sector in Islamabad.
Contractors offer a variety of models in colors and styles to complement any home. They will also customize covers down to the tiniest detail so that clients can get the precise results they want.
Every year, thousands of homeowners arrange to have contractors add detached patio covers to their homes. A covered patio can become an entertainment center, increase living space, and make a patio usable most of the year.
Covers enhance home beauty and curb appeal, protect outdoor furniture and increase property values. Covering patio areas also allows homeowners to safely enjoy the outdoors without worrying about sun damage.