Looking to sell your used car, but want to make sure you're getting the most cash for your car?
Selling an automobile is not an easy task, but for those willing to put in a little time and effort, it is possible to get your asking price! To learn effective strategies for selling your car and maximizing your selling price, click here.
Patience and persistence are key to your overall success, but here are some tips to help with the process.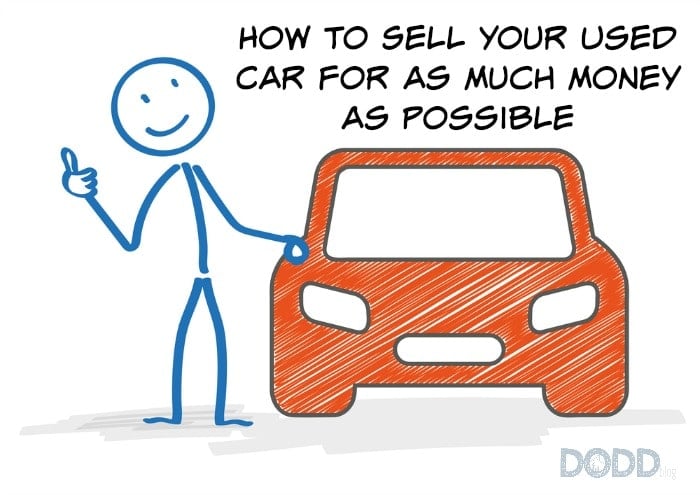 Sell Your Used Car: Research is Key
Do your research before making any sales decisions. First, you'll want to learn the value of your vehicle. In order to get top dollar, you'll want to price your car at what it's worth—no more, no less. Kelley Blue Book can give you the current worth of your vehicle online. It's important to be honest about the condition of your vehicle when running an online estimate; you'll want to know the actual value of your car, so you don't price yourself out of the market or end up accepting a lowball offer. Keep in mind any special features and include them in your estimation request.
Making Repairs
Next, you'll want to have any low-cost repairs made, fluids topped off, and a vehicle history report conducted. If your car has any major repairs to be made, consider whether the cost of having them made is worth the net impact on your asking price. If a $1,000 repair only adds $500 to the asking price, it's better to leave major repairs in the hands of your buyer. However, if a major repair adds significant value to your car, it may be worth considering it as an investment that will pay off when it comes time to sell your used car. Compare estimates carefully before investing in any repairs as they could make or break an otherwise successful sale.
The Details
Now that your car is running as smoothly as possible, you'll want to make sure the body and interior are in peak condition. One option you have is to take your car to a professional for a full detailing. A professional will use high-quality products and take the utmost care while cleaning your car, however, this comes at a higher cost than a DIY wash and wax. If you prefer, you can put in the time and effort on your own to save some cash and ultimately add to your final selling price. A wash, wax, and vacuum is a good starting point, but consider extra finishing touches like mirror polish and air freshener to enhance the overall effect.
When it Comes to Pricing
Once you've made the necessary repairs and your car is looking its very best, it's time to nail down your asking price, considering the value of the car, the market you're selling in, and how long you're willing to wait on an offer. Private sales can ultimately lead to more money, but generally involve negotiations, multiple test drives, and buyers who can easily change their minds and take back their offers. This process can be quite time consuming, but if you have patience and aren't in a "must sell" situation, it could be the best option for you. Remember during negotiations to truly sell your used car. Was it a top seller when it first hit the market? Does the name carry a lot of weight with the consumer? Think of the reasons a potential buyer would want to own your car and make them known throughout the sales process. Keeping answers to your buyer's questions clear and concise, while using your vehicle history report to your advantage, will add to your trustworthiness in the eyes of your buyer and can add to the overall sales experience.
If you're looking to make a quick, easy sale you may consider a car buyer. Car buyers offer you an opportunity to sell your vehicle for a fair price with a quick turnaround. While they may not offer your exact estimated value, they often make it quick and convenient, and it's much easier than waiting on an offer from a private sale. If you're looking for value for your effort, a car buyer is the way to proceed.
Everyone wants to make top dollar when selling their used car. By following this strategy, you can ensure that you're making a fair deal. Your buyer will thank you for your knowledge and clarity while you can congratulate yourself on a deal well struck! It's a win-win situation.