A big tradition in my household, is to make handmade Christmas ornaments each year with my kids. Our tree is filled with handmade ornaments, and boy does it make my heart happy digging them out each and every year. Seeing how much my kid's crafting skills have improved over the years. This list is full of cute ornaments you can make with your family this Christmas. From easy peasy, to a little more advanced, this list has it all!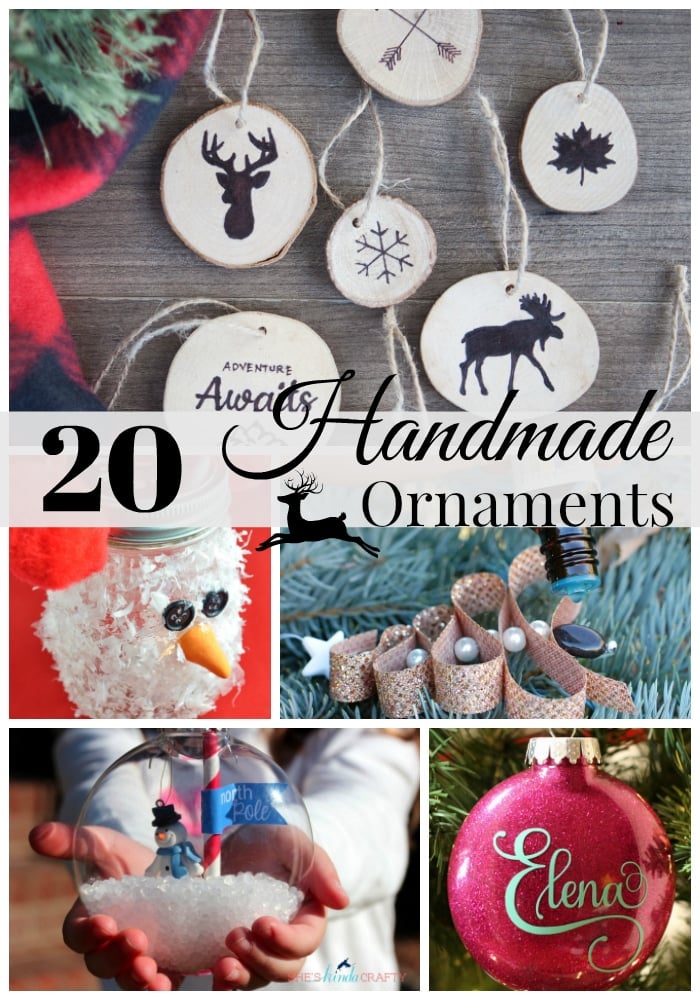 20 Easy Homemade Christmas Ornaments Ideas
These homemade Christmas ornaments are perfect for the holiday season!
1. Snowman Mason Jar Luminary (PICTURED)
2. Santa Candles
3. Snowball Ornaments
4. North Pole Ornament (PICTURED)
5. Personalized Glitter Ornament (PICTURED)
6. Floating Photo Ornament
7. Book Page Ornament
8. Cinnamon Ornament
9. Gingerbread House Ornament
10. Rustic Wood Decoupage Ornament
11. Minecraft Creeper Ornament
12. Bottle Cap Snowman Ornament
13. Starched String Ball Ornament
14. Lego Friend Ornament
15. Photo Keepsake Ornament
16. Faux Wood Burned Ornaments (PICTURED)
17. Silhouette Keepsake Ornament
18. Cube Glitter Ornament
19. Oil Diffuser Ornament (PICTURED)
20. Yarn Ball Ornament
Please share your homemade Christmas ornaments below in the comments. I would love to see how they turn out. I hope each and everyone of you have a Merry Christmas.