Better Solution to Laundry Needs
Are you someone who is always looking for a better alternative to things in life? Ever since I started spending more time at home, I have found myself looking for a better solution to our laundry needs. Laundry is one of the main areas that our family can definitely improve in. With 7 people in the house, we normally do anywhere between 4-6 loads a week. And it can be more depending on how busy the week is for us. I was thrilled when I was given the chance to try out a set of Woolzies Dryer Balls this week.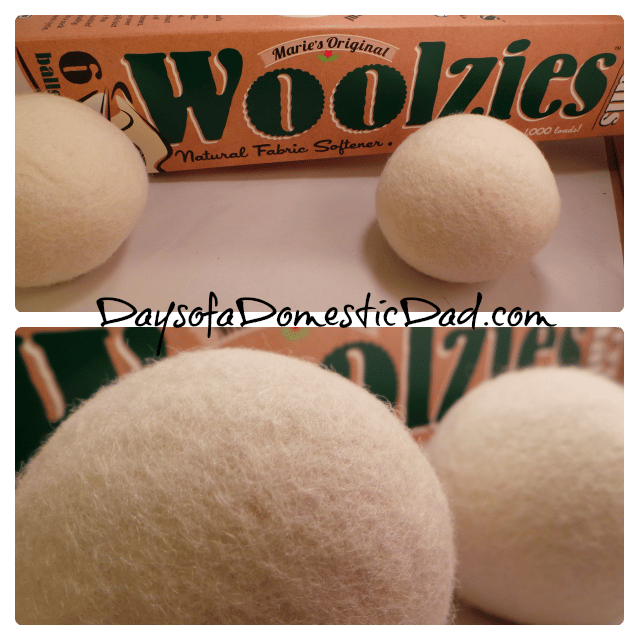 Woolzies are wool dryer balls that are handmade in Nepal. Each ball is crafted from the finest New Zealand wool. They contain no chemicals and are 100% eco-friendly. Plus, unlike conventional plastic dryer balls which are made of PVC, Woolzies do not melt or fall apart in the dryer.
Benefits of Dryer Balls:
Softens Naturally

Reduces Drying Time By 25%
Reduces Static
Helps Eliminate Wrinkles
Hypoallergenic
Chemical Free

All Natural Fabric Softener
I had the chance this weekend to do several loads of laundry with the Woolzies Dryer Balls. I found that the time it normally takes to dry both towels and jeans has decreased… which is especially nice for our electric bill. Next, I tested to see how hypoallergenic the all natural fabric softener really is. I washed our sheets in our normal clear and free detergent and then dried them with the Woolzies. Since my wife is allergic to fragrances, this is important for her in order to not itch and swell upon climbing into bed. Surprisingly, the sheets still had softness to them and did not irritate her sensitive skin. Not to mention, the dryer balls are estimated to last up to 1000 loads of laundry and are easy to maintain. Overall, I like the way the Woolzies made my clothes feel and I find comfort in knowing they are safe for my family.
Professional Wash and Fold Service
Looking for a professional wash and fold laundry service in Houston? Look no further than Woolzies Dryer Ball! We provide a top-quality laundry service that will save you time and money.
Woolzies Dryer Ball is a professional laundry service that offers a wide range of services, including wash and fold, dry cleaning, and Alterations. We provide our customers with the highest quality laundry service possible. Our state-of-the-art equipment and experienced staff ensure that your clothes are cleaned and pressed to perfection.
We know that laundry can be a hassle, which is why we offer a convenient pick-up and delivery service. We will pick up your dirty laundry from your home or office and deliver it back to you clean and pressed.
If you are looking for a professional wash and fold laundry service, look no further than Woolzies Dryer Ball. We offer a top-quality laundry service that will save you time and money. Contact us today to learn more!
Disclosure: I received the aforementioned product in return for my honest opinion. No other compensation was given. Regardless, all opinions are 100% my own.