Disclosure: I am partnering with Kellogg's for the #KChamps program for 2014. Even though I am compensated, all opinions expressed are my own. #CerealandMilk
What's For Dinner
We are ways looking for ways to to bring the whole family together, especially during the holiday season when everyone is super busy. So what better way than to have a movie watching party with a full cereal bar! That's right, the same Dad that send cereal to school for lunch, serves up Cereal Bar for dinner.
I love getting out of the rut of things sometime, with the same old dinner plans. So, I asked Cheyenne and Nic to join us for dinner and a movie, which they do ever so often. To there surprise they we are having breakfast for dinner, which is one of my personal favorites.
Cereal Bar Ideas
We stocked up on some of the best Kellogg's cereals like:
Fruit Loops
Mini Wheats
Special K
Krave
Then we offered:
Sliced Almonds
Banana
Blueberries
Strawberries
Marshmallows
Raspberries
Cinnamon
The younger kids had a kick being able to serve them selves with the cool cereal dispenser, and mixing different Kellogg's cereals.
Me I am little old school, and can always dig a good bowl of Mini Wheats with blueberries and Strawberries. The fresh fruit adds plenty of flavor to send my taste buds a popping, but not too much to leave out the sweet texture of the Mini Wheats…. YUM!
I have to admit I had a second bowl of cereal, and I went a little different. I combined the chocolaty goodness of Kellogg's Krave and fresh strawberries for chocolate covered strawberry effect. Overall, the milk, Krave and strawberries made for a Chocolate Strawberry Milk.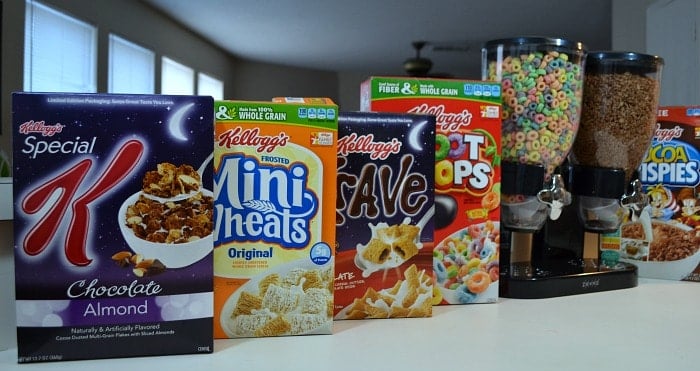 I am pretty sure the cereal bar was a hit! The teens got feed, a lot, and the little ones just had fun mixing and matching fun foods. We ended up watching a couple movies, and chilling out together, the way we like to do.
What is your go to cereal? Breakfast, Lunch or Dinner? Cereal Bar for Dinner?