To wrap up our blogger adventure in LA we stopped by the Hollywood Centre Studios to visit the set of Disney Channel's Live and Maddie. This Disney Channel sitcom has been airing for a short time and has made a positive impression on young teens. Lets talk Liv and Maddie cast, Liv and Maddie Joey, and Parker from Liv and Maddie.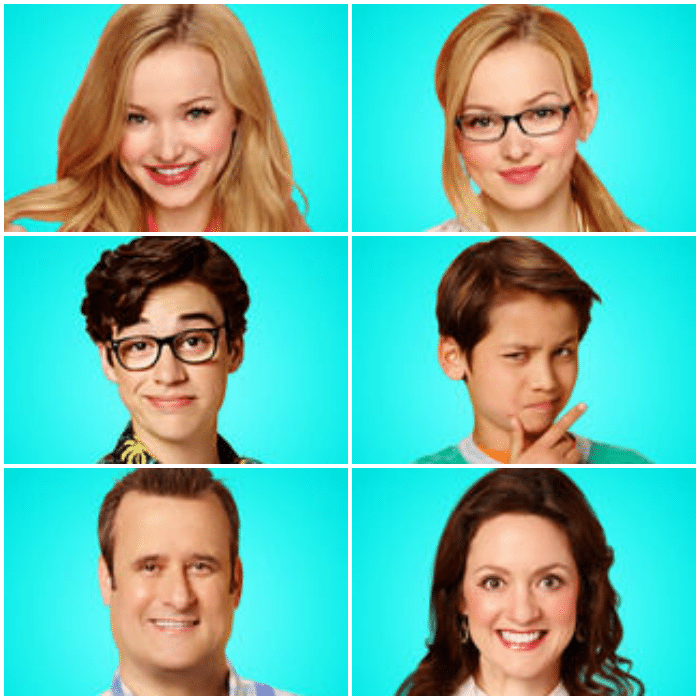 I think it is the identical twins played by Dove Cameron. Dove is two identical twins with entirely different personalities. Liv Rooney is a girly girl who was an actress in Hollywood for four years. She was offered more roles in other shows and movies, but decided to come home instead because she missed her family and wanted to see them again. Her sister Maddie is a tomboy with a facility for sports, particularly basketball.
The Liv and Maddie Cast
Liv – Liv's a triple threat who can sing, dance and act. But her most challenging role is about to begin: attempting to be normal!

Maddie – The athletic half of the Twins. She worries Liv's larger than life personality will send large ripples through the small hometown.

Liv and Maddie Joey

– The awkwardly confident brother. Although he is only slightly younger than Liv and Maddie- he is much less mature.

Parker from Liv and Maddie – The diabolical younger brother. His biggest joy in life is mocking his older brother Joey.

Pete – Maddie's basketball coach. He supports Liv's dreams, but doesn't always understand the things she's talking about.

Karen – The school psychologist and working mom of four. The ideal mom to manage the competing personalities of the twins.
#LivAndMaddieEvent
As a part of our visit the Liv and Maddie Cast took a moment to visit with our group. Here are a few questions from our session.
Q: Are you (Dove C) like Maddie in real life?
Dove: Actually, funny enough like super, super short version of the long story. I originally only played one character. And then when they brought us back after 9 months of testing, they sort of informed all of us that it was now a Twin Show. So I didn't audition for either character, so when the opportunity presented itself, our Director Andy Fickman was just sort of like, who do you want these girls to be? And so I just sort of split my own personality down the middle and then turned it up extreme Disney style. So I'm kind of a lot like both of them.
Parker from Liv and Maddie
Q: Compare doing a film vs a TV Show?
Kali: It's sort of like a School year, like when you start a school year, you're like, "I'm gonna get all A's and I love extracurricular activities," and then you get to the end of it and you're like, "I need Summer." So, you know, everything in moderation. I feel like when you get to the end of the Season, you feel like – I want to do a movie. And then you do the movie and you're like, "I can't wait to be back on a Monday through Friday schedule!" So they're both fun for different reasons. I think everybody goes through that for different reasons.
Liv and Maddie Joey: Completely different, like we know everybody, we knew the crew here because we've done 3 Seasons for the most part with the same people in this giant big Black Box thing all day so you get to know these people. But coming here is kind of like…
Kali : A Family.
Joey: Yeah, like a safety zone. Like when you go to a movie, it's a new crew, new cast, it's a new everything. And then you come back here and this feels like home base, so a sense of security.
Kali: I'm gonna cut you off here.
Joey: Please do.
Kali: I would also say, and Ben and I could speak to this, we have kids. We are a Mom and a Dad. And a TV schedule is just so lovely for that whereas a Film or an Episodic, you know, which is basically like shooting a Film, you're gone. You know, you're gone around the Clock. So this has been a really nice experience for us to be able to incorporate our kids into this world and they watch the show.
Liv and Maddie Joey
Q: Question for Dove from a reader. They wondered if you ever get confused, sometimes you're Liv and sometimes you're Maddie. Do you ever confuse your Character?
Dove: Well I was so petrified because the Twin thing was just sort of something that just like happened. So they were like, by the way, you're going to be playing Twins. We'll see you on Monday and I was like Ha Ha. I'm gonna get fired. I'm gonna lose my job. They're gonna choose somebody else. So I was just so scared to get it wrong that I like severely over compensated and like went a little wild far in the direction of like they have to be completely separate entities. So during the first Season, I think none of that happened. But I mean, I've never gotten confused but as the Seasons go on, I'll walk into a scene, and I'll be like Wait, who am I?
We visited for at least 20 to 30 minutes, if you would like to see all of our Q & A leave a comment below.
I was already a fan of the Liv and Maddie cast before the visit, so I highly encourage you to take a break in the afternoon and watch a little bit of Liv and Maddie.
Liv and Maddie Cast Update
The Disney Channel series "Liv and Maddie" aired from 2013 to 2017 and featured a talented cast. Here's an update on some of the main cast members as of my knowledge cutoff:
Dove Cameron (plays Liv Rooney and Maddie Rooney)
Dove Cameron has continued to have a successful acting career. After "Liv and Maddie," she appeared in the Disney Channel movie "Descendants" and its sequels. She has also pursued a music career, releasing singles and performing in various projects. Additionally, Cameron has appeared in television shows like "Agents of S.H.I.E.L.D" and starred in the Off-Broadway production of "Clueless: The Musical."
Joey Bragg (plays Joey Rooney)
Joey Bragg has remained active in the entertainment industry. He has appeared in TV shows like "The Outfield" and "Wet Hot American Summer: Ten Years Later." Bragg has also done stand-up comedy and has a presence on social media platforms.
Tenzing Norgay Trainor (plays Parker from Liv and Maddie)
After "Liv and Maddie," Tenzing Norgay Trainor has continued his acting career. He appeared in the film "Abominable" and provided the voice for Jin in the Disney animated series "The Rocketeer." Trainor has also worked on other projects, including voice acting roles and TV appearances.
Kali Rocha (plays Karen Rooney)
Kali Rocha, who portrayed the mother of the Rooney siblings, has appeared in several TV shows after "Liv and Maddie." She has had recurring roles in series such as "Man with a Plan" and "Teachers." Rocha has also worked on independent films and theater productions.
Benjamin King (plays Pete Rooney)
Benjamin King, who played the father of the Rooney family, has continued his acting career. He has made appearances in TV shows such as "NCIS" and "Criminal Minds." King has also been involved in voice acting and has worked on animated projects.
Please note that the careers of actors can evolve and change over time, so there might be further updates beyond my knowledge cutoff. It's always a good idea to check recent sources for the most up-to-date information on the "Liv and Maddie cast members."