People get tattoos for different reasons: self-expression, an expression of love, taking a stand, supporting a cause, and many other endless reasons. Whatever the reason is, a tattoo means something special to the person who gets it.
People watch TV shows usually connect with the characters on different levels. They see themselves in a certain character or feel that they remind them of someone they love, or they may be inspired by some of the characters on the show.
Since tattoos and TV show characters have a special influence on people, we bring you a list of some good TV tattoo ideas that might inspire you and even help you decide your next tattoo!
Which of the Six F.R.I.E.N.D.S Are You?
If you're a Friends fan, you know there's a little of each of the 6 main characters in you. You may relate to one more than the others, but you probably have friends that remind you of some of them or there are certain moments on the show you can truly relate with. Getting a tattoo as simple as writing the name of the show in the same font, with the same colorful dots between each letter is one of the coolest ideas.
Some may prefer having a tattoo of one of the most epic lines on that show, like Joey's "How you doin'" or Monica's loud "I know!". Other idea include a turkey wearing huge glasses and a red hat, or two lobsters, or any other hilarious part of that amazing show.
Don't forget, you can always remove your tattoo so you should always think twice before you visit a tattoo shop. However, if you make a mistake, there are plenty of experts like the Melbourne laser tattoo removal center that will make sure your skin is glowing again!
If You're Into Fantasy, Maybe "You Know Nothing, Jon Snow"
Maybe sitcoms aren't your thing and you're more into out-of-this-world fantasies, like Game of Thrones, one of the most successful shows in the world.
People from every country were fascinated and intrigued by the complex, interwoven stories of the many families fighting over the Iron Throne.
Many fans voted Game of Thrones as one of the best shows that inspire wonderful tattoo ideas, home accessories, and many other merch items. The show made it to the Top 5 by comparethemarket.com.au based on many reviews from customers. Many people have drawings of Khaleesi tattooed on different body parts, others have the Iron Throne itself, while many prefer getting smaller designs of their favorite house's logo.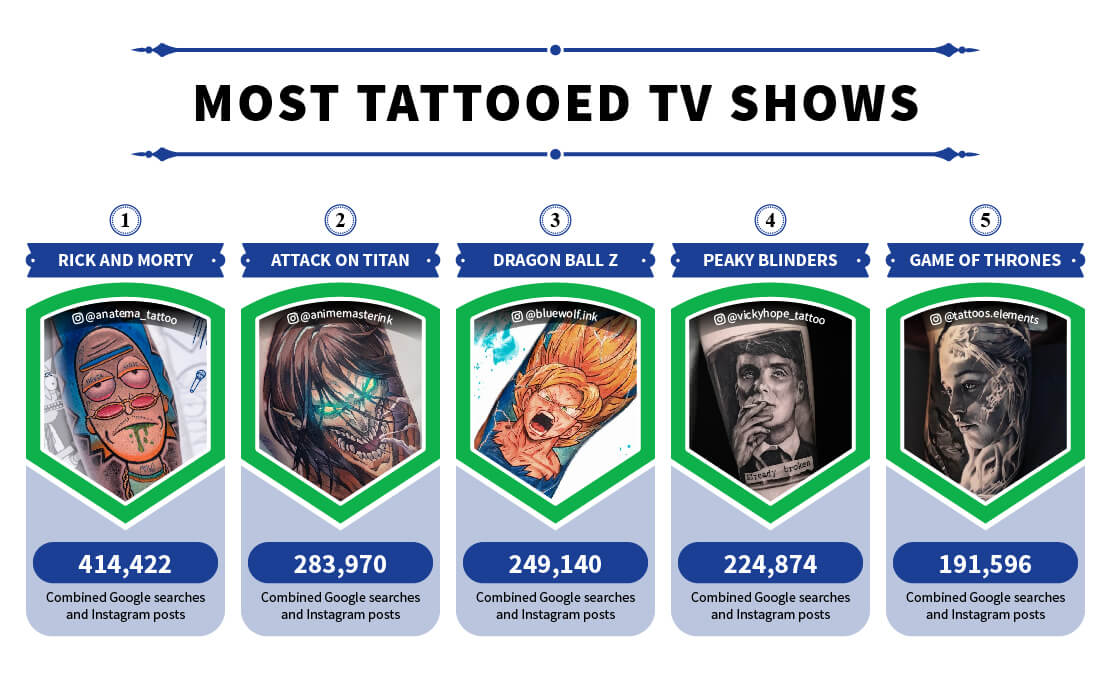 No Matter Your Age, Animation Is Wonderful
Whether you're into Japanese anime, adult animation shows, or just enjoy watching kids' cartoons, animation shows are some of the most popular hits. Dragon Ball and Dragon Ball Z, for example, are two of the most popular anime shows that both kids and adults love to watch.
Both adult and kid Goku are some of the coolest designs that show fans love. Others prefer different creatures that the main characters encounter throughout their adventures.
Funny adult animation shows like Family Guy, The Simpsons, and Southpark are other types of animation shows that people love watching. Obviously, they're not suitable for children, but neither are tattoos!
There's no right or wrong when it comes to tattoos. Only you decide what works best for you and what doesn't. Whatever design you choose, based on a TV show or not, it will always be special to you and you'll want to have it forever to show off. Choose your ink wisely, and express yourself the way you like best.