Does your family's outdoor living space need an upgrade? If you're like many people, you probably haven't done much to update the look of your patio in a few years. You might be surprised by just how transformative and enjoyable adding some new touches to this area can be!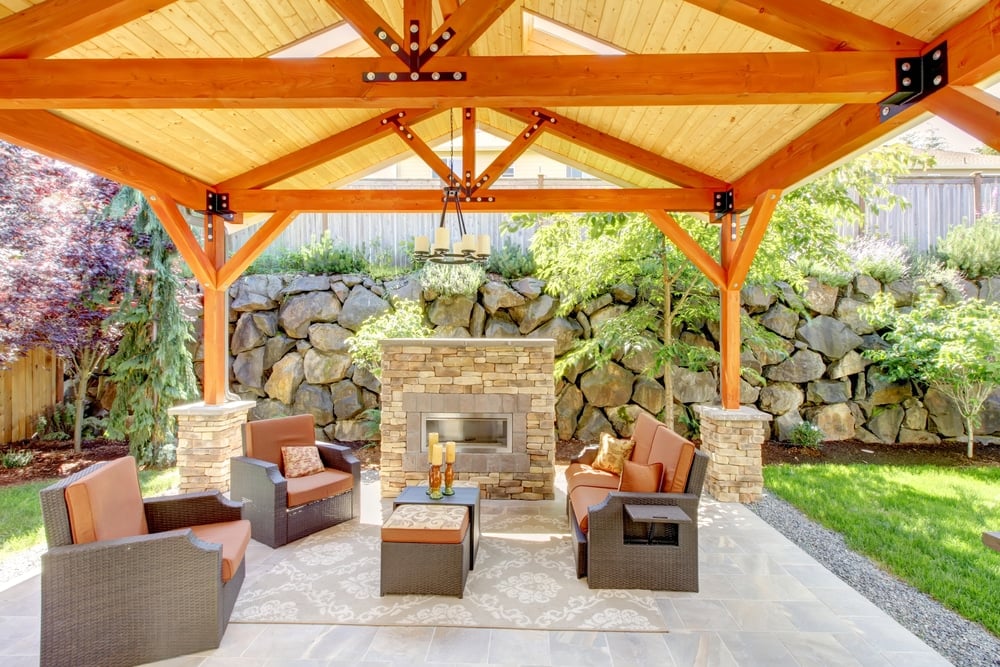 From expanding the square footage of your courtyard with new furniture to bringing it new life with fresh paint colors, there are plenty of ways that you can give a major refresh to make this common area more welcoming for all who use it.
In this blog post, we'll cover why now is the perfect time of year for updating the look and feel of your family home's patio – so read on and imagine what excitement awaits!
Utilize colorful furniture pieces
Colorful furniture can breathe new life into a dull patio space, making it vibrant and inviting. Consider furnishing your outdoor living area with bold, brightly colored pieces that reflect your personal style. This not only ensures that your patio stands out but also creates a cheerful atmosphere conducive to relaxation and socialization. Whether it's bright red chairs, a turquoise table, or a yellow umbrella, the possibilities are endless. Remember, the goal is to cultivate a space that inspires comfort, fun, and memorable family moments.
Plant flowers, shrubs, and trees
Transform your outdoor space into a blooming oasis by simply planting flowers, shrubs, and trees. Not only do they bring life to your outdoor area, but they also add color, shade, and texture. Planting a variety of flowers and shrubs can create a beautiful landscape that enhances your home's overall look and feel. Trees also provide much-needed shade during hot summer months while providing fresh air, creating an inviting and relaxing atmosphere. Planting flowers, shrubs, and trees is an easy and affordable way to transform your outdoor space into your very own paradise.
Install a hammock
Installing a hammock can be a game-changer for your patio. Hammocks are not only a functional and stylish piece of outdoor furniture, but they also provide a unique way for everyone to relax and enjoy the atmosphere. Whether it's reading your favorite book, taking a nap, or simply soaking in the beauty of your outdoor space, a hammock can offer a tranquil retreat in the comfort of your own backyard. Plus, with a variety of styles and materials available, you can easily find one that complements the rest of your patio decor.
Install lights for nighttime use
Adding artificial lighting to your patio can create a magical atmosphere that will make your outdoor space a great place to relax and entertain after dark. You don't need to break the bank to make it happen – some simple string lights or lanterns can transform your patio into a cozy and inviting space. With a warm glow, you can enhance the ambiance of any summer evening and create the perfect setting for a midnight gathering with family and friends. Whether you want to enjoy some quiet time in your own backyard or host a barbecue, installing lights for nighttime use is a great way to make your patio more welcoming and enjoyable at any time of day.
Paint or install new flooring
The patio area is an oasis that can provide a welcoming respite after a long day. Whether it's for lounging or entertaining, it's important to create an atmosphere that reflects the style and aesthetic that you desire. One way to achieve this is by upgrading the flooring or giving it a fresh coat of paint.
A new floor can give your patio area an instant facelift, creating a modern and refreshed feel. With a wide variety of flooring options available, you can choose from tile, hardwood, concrete, and many other choices to create a look that is unique to your space.
Similarly, a fresh coat of paint can change the entire feel of the area, making it feel more vibrant and inviting. These simple updates can create a welcoming space that is not only beautiful but also functional for entertaining or just relaxing.
Consider investing in all-weather furniture
Investing in all-weather furniture for your patio can ensure long-term durability, making it a cost-effective solution. These types of furnishings are designed to withstand various weather conditions, be it intense sun, rain, or snow, without losing their appeal or functionality.
They are typically made from materials such as teak, stainless steel, or resin, which are known for their resilience and longevity. Additionally, all-weather furniture requires minimal maintenance, freeing up your time to simply enjoy your upgraded outdoor space.
Not only does this make your patio an inviting place to relax all year round, but it also adds to the aesthetic value of your home.
Upgrading your patio can be a game-changer for your home's overall ambiance and usability.
By incorporating colorful furniture, planting greenery, installing a hammock, adding lighting, updating the flooring, and investing in all-weather furniture, you can transform your patio into an inviting oasis for relaxation and entertainment.
Not only are these updates aesthetically pleasing, but they also increase the functional value of your outdoor space, allowing you to enjoy it year-round. So don't wait, seize this opportunity to create an outdoor living space that reflects your style and meets your family's needs. The perfect patio awaits!