Ever looked at your back garden and been uninspired by what you saw? Maybe you've just moved somewhere and want to add your stamp and style to it.
15 Backyard Inspirations
Or perhaps you've lived somewhere for a while but have never really settled upon what you can do to enhance it.
Well, with summer just around the corner, now is the time to act.
Thankfully there are plenty of ways you can spruce up your rear garden space by adding a touch of style, luxury, and imagination.
From gazebos and swimming pools to hammocks and tree lights, here are 15 backyard inspirations that will impress your guests this summer.
Backyards come in various shapes and sizes, so what you can do depends very much on how much space you have available, as well, of course as your budget.
However, if you introduce any of these elements into the mix, it will go a long way towards creating an outdoor green space you will be proud of.
Add a dining area
There is nothing quite like the feeling of enjoying an al fresco meal on a lovely sunny day. So why not take the opportunity to introduce an outdoor dining area into your backyard?
When doing this, consider how many seats you want to accommodate, as well as the style and shape of the table.
To create a visual separation between this new eating area and the rest of the backyard, consider putting down a layer of gravel or mulch.
You might even want to put up a canopy over the seating area for extra visual appeal as well as to provide shade when the sun gets too hot. To do that right, you would need the help of reputable canopy installers.
Put in a swimming pool.
A surefire way to take your backyard style up is to put it in a swimming pool.
Perfect for those who want to escape from the summer heat, a pool adds an exciting entertainment element to your backyard, as well as a visual centerpiece.
Whether you have a simple design like a small wading or plunge pool, or you commission a more extravagant arrangement that includes rocks and slides, it is entirely up to you.
But if you are looking for a bit of backyard inspiration, you can't go wrong with a pool.
If you put in a swimming pool, be sure to add it to your home insurance, especially if you are with NRMA or another reputable firm.
Hang up in a hammock
A hammock is arguably one of the most excellent features you can add to your backyard.
What can be better than spending a couple of hours sleeping or relaxing in one on your day off?
The great thing about a hammock is that you don't need much space to put one up. You could even take advantage of trees already in your garden, which will provide welcome shade on those hot days.
Plant a fruit and vegetable garden
A great way to add color to your backyard is to put it in a fruit and vegetable garden.
This also has the added benefit of saving you money as you can grow your own food to eat.
Creating one is quite easy to do. Essentially, all you need is to put down a few rows of plant beds.
Be sure to add gravel between them too, as this will create a path you can walk through when attending to them.
Give your shed a makeover
One of the quickest and simplest things you can do to spruce up the look of your back garden, is to give the exterior of your shed a makeover.
To complete a standout look, all you need is a few layers of paint in a colour that will complement your garden's overall aesthetic. For some great #shedspo, be sure to take a look at 7 ways you can organise your shed and prevent it from becoming an eyesore.
However, for extra touches of style, you can also consider adding trims and even windows to it – assuming it doesn't already have it.
Attaching a trellis on its outside walls, for plants or climbing vines, is another top design idea too.
Decorate trees with solar lights
Another fast and easy way to add extra appeal to your back garden is to decorate your trees and certain bushes with a string of solar lights.
During the darker hours, this will add a sense of enchantment to your outdoor space, as well as a rather lovely glow to it too. Which means you can sit outside for longer.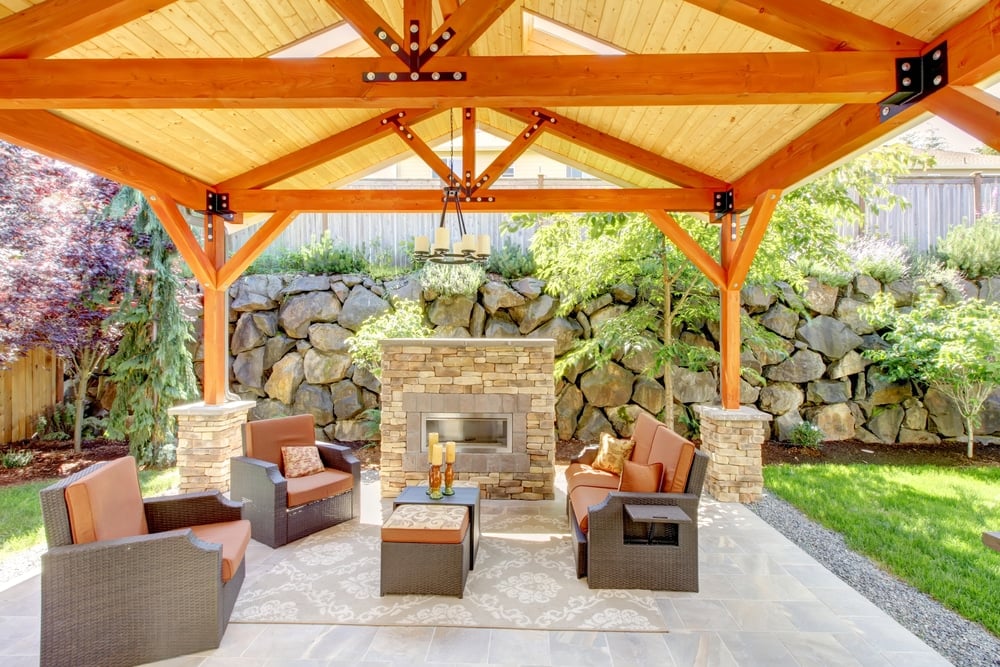 Install a firepit
Who says you can only use your garden in the winter?
With a firepit, you will also be able to entertain guests during the colder months of the year too!
Be sure to have gravel and wooden seating added, to complete the look of an area that everyone is sure to love.
Add a gazebo
If you have a bigger garden, then a gazebo is a great element to add to it.
Adding both charm and functionality, it gives you an extra space to sit at and enjoy your garden.
Whether you build the gazebo yourself, or purchase one ready-made, this is a feature that is sure to impress.
Install a swing
It doesn't matter how old we are, everyone loves swing!
There is something quite relaxing about sitting in one as we read, have a cup of tea, scrolling on our phone, or just relaxing.
Given how simple they are to make up, swings make a huge design impact.
All you need to do is ensure that the tree branch you fasten it to is healthy, and about 10 inches thick in diameter. As this should be able to adequately withstand both the swings weight and yours.
Put in a hot tub
For many people a hot tub is top of their list when it comes to luxury backyard items.
However, if not properly considered, and essentially just plonked somewhere, they can look a bit of an eyesore.
Therefore, if you have your heart set on a hot tub, why not have it included in a proper design feature, that incorporates decking and maybe other solar lighting as well?
This will give your back garden a real wow factor.
Don't forget about hanging flowers too
When it comes to gardens it can be easy to focus on the ground only. But be mindful of the impact of hanging flowers too.
Pots and hanging baskets are excellent for making use of vertical spaces above ground level. These include the likes of fences, awnings and posts.
This is an especially good way of enhancing the visual impact of small backyards.
Get a bench
For an instant design feature, it is hard to go past a bench.
The good thing about benches is that they come in various styles and designs to suit all gardens.
To maximise their impact, you can also put them next to pretty flowers or under shady trees.
Center your outdoor space with a fountain
Like benches, a fountain can add an instant focal point to your garden space.
This is a particularly good thing to put in if your garden consists of just a square patch of grass, as it will add more appeal to it.
Although if you have a bigger garden, it can also be utilized to define certain spaces within it.
Bridge the gap
Another quaint design feature for bigger gardens, especially those that have a pond, creek or stream running through it is a bridge.
The good thing about garden bridges is that they are very eye-catching, especially if painted in an attractive color.
They can also balance up uneven terrain, as well as being practical enough to manage runoff from stormwater.
While this is something you could build yourself, it is probably worth hiring the services of a professional landscape architect to ensure safe installation.
Build a treehouse
Last, but not least, how about a tree house? And we don't just mean for kids!
While you can most certainly build a space for kids to enjoy, why not create a multi-functional space that you can use when your children have flown the nest?
Add in pillows, throws and maybe even a movie projector, to form a fantastic space you can retreat to as the mood takes you.