Like many dads, I am acutely aware of the stigma around men admitting that they drive a minivan. It might not sound very cool, but who cares when you have a big family?
2022 Toyota Sienna XLE
Minivans are the bomb for getting kids everywhere they need to be and for taking long trips with lots of gear.
Toyota has been in the minivan business for a long time. The Sienna has been a classic family car for decades. The 2022 Toyota Sienna XLE V6 is one of the most practical and comfortable minivans on the market. Here are the reasons I like the Sienna as a family vehicle.
Performance and Handling
The Sienna drives more like a big station wagon than a tall boxy van or an SUV. I think that is because it is a little more aerodynamically designed and sits low to the ground for a better center of gravity.
This van is also light and handles turns well, so passengers aren't sliding around. The 2022 Toyota Sienna XLE V6 engine has plenty of power to handle all the passengers and gear we tend to cram into the car when we travel.
Interior and Comfort
The 2022 Toyota Sienna Interior cabin is more than adequate for our family. The headroom and sliding doors are great for sliding in and out easily. The driver's positioning is very versatile.
And the large touchscreen is convenient to both the driver and front-row passenger.
The 2022 Toyota Sienna XLE V6 trim package offers both a 7-passenger and an 8-passenger version. For us, 7 is just enough. The second-row bucket seats come with an optional footrest that offers the feel of a business-class cabin.
The 4-zone climate control keeps the entire interior comfortable on hot or cold days.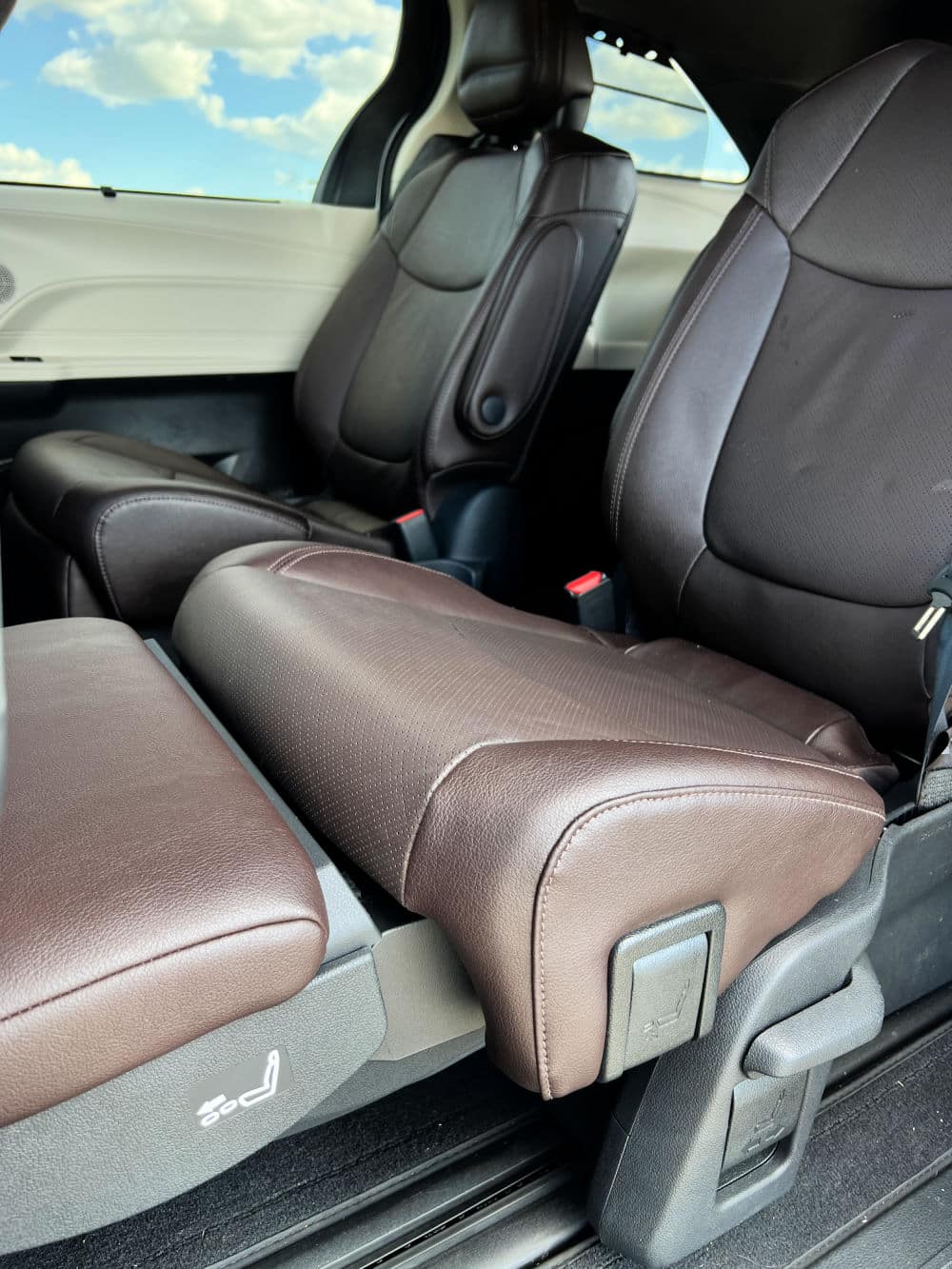 Another great thing about the 2022 Toyota Sienna interior is the cargo space. There is a good amount of storage behind the third-row seats with hooks on the seatbacks to hold gear in place.
The third-row folds down to nearly double the storage. That works fine for a family of five. Oh, and this car can tow up to 3,500 pounds.
2022 Sienna Technology
The infotainment system in the Sienna is accessed via the touchscreen, manual buttons, and voice activation.
Apple CarPlay and Android Auto smartphone integration come standard. Navigation is also included.
Because this vehicle is pretty big, there is a built-in intercom system so you can communicate with the second and third-row passengers. Of course, there are also Wi-Fi connectivity and USB ports in all three rows.
Check 2022 Toyota Sienna XLE V6 Out Online
You can learn more about the 2022 Toyota Sienna XLE V6 family minivan by visiting Toyota.com.