Disclosure: This is a sponsored post written by me on behalf of Huggies®. As always, all opinions are my own.
---
With the holidays quickly approaching, the girls and I wanted to sit down and attempt decorating a couple gingerbread houses for National Gingerbread House Day (December 12th).
Fun Fact: Gingerbread is believed to have been introduced to Europe by an Armenian monk named Gregory of Nicopolis in the 10th century. Gregory brought the necessary spices back from the Middle East and taught the art of gingerbread making to French Christians. Gingerbread slowly became popular to paint the cookies or houses and use them as window decorations.
National Gingerbread House Day
The best way to celebrate Gingerbread House Day is to either bake your own gingerbread or purchase a store bought kit like we did. Unfortunately, I've haven't baked gingerbread yet, but there is always next year.
This was the first time our girls have put together gingerbread houses. All three were pretty excited when I told them what we would be doing, and history behind the delicious treat. After reading the instuctions and tips to assemble the little gingerbread house we got started.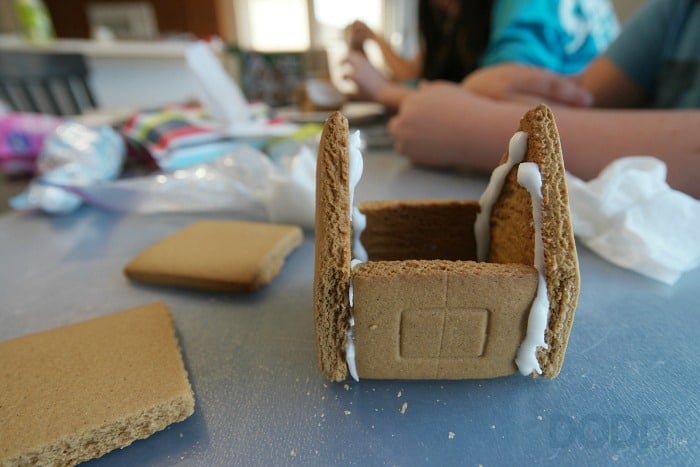 For me, I knew it would take plenty of icing to hold the walls and roof together…but the girls found out real quick that a small amount wouldn't hold.
Out of the three girls, Joeli had the best gingerbread house. Surprisingly, she had the most patience to let the walls stick together, then start decorating. Which was her favorite part! I can't count the times I caught her licking her fingers and sneaking a taste of the icing. On top of that, she wanted to eat most of the decorations. I think we only had a few gum drops left to use because she ate most of them!
After what was a slow process, we finally finished our little brown house covered in white icing. Joeli took it upon herself to clean up with a couple Huggies Wipes, … which we pull out any time we're working on a special project. I can always count on Huggies® Wipes which have triple layers that are gentle on skin and thick enough to clean the mess.
Are you a fan of Huggies products like our family?
You should check out the Huggies® #HugTheMessSweepstakes social media sweepstakes!