This past march I was able to break away from the family for a few days and spend sometime with a few fellow men bloggers. So where did we go? Aria in Las Vegas! It was seven guys from different parts of the U.S.. We hung out, tried our luck in the casino, ate some food, actually a lot of food. Right now I just want to recap what the room and food was like at the Aria in Las Vegas.
Deluxe Room – Aria in Las Vegas
We booked a standard Deluxe Room that had a view over looking the strip. As you can see in my video below, a long corridor welcomes you, which I liked a lot. I was able to off load everything before relaxing in the plush king size bed. The wide and tall windows let in plenty of sun light, but offered black out curtains when you wanted to escape the world. With a large HD TV and snacks available I felt the room was comforting and one I would love to revisit.
The rooms at ARIA have quickly become the new standard in Las Vegas hotel luxury. Our Deluxe Room averages 520 square feet with custom furnishings, unparalleled amenities and our exclusive Control4 One-Touch integrated technology that allows you to easily customize room features based on your personal preferences. While many of the other hotels in Las Vegas offer standard design and amenities, every room in ARIA includes the finest attention to detail, from the triple-sheeted 300 thread count sheets to the one-touch "Goodnight" button.

Photo Credit: Jeff Bogle

Each room will be everything you are looking for in a Las Vegas hotel, and drastically more than you thought possible, which is why we received both the AAA Five Diamond and Forbes Travel Guide Four-Star Awards. Integrated music controls means the night never has to end, and our custom beds by Sealy® will make you want to snooze through your morning plans. When you enter our Deluxe Room, you'll only have one thought: this is what all hotels at Las Vegas should be like.
Lets Eat – Aria in Las Vegas
Sage: Our first night of dining we met at one of Aria's finest establishments, Sage. We were greeted by their expert mixologist. He prepared a few alcoholic and nonalcoholic beverages sure to satisfy any taste bud. As we waited to be seated relaxed in the cocktail lounge that was a mix of swank and swag.
Sage is a favorite Las Vegas restaurant amongst an international crowd of foodies due to its focuses on contemporary American cuisine spiced with global influences in a sophisticated, yet comfortable atmosphere. Critically acclaimed Chef Shawn McClain combines farm-to-table produce, artisanal meats and sustainable seafood that make each dish mouth-watering.
Dinner service was impeccable and one of the best I have ever experienced. Our tag team of servers delivered drinks and entries in a precise order. I felt that as soon as I was done with one plate, another found its way in front of me. Just the way I like it. Overall, words could not express how I loved dinner servce at Sage. You have to go to see for yourself.
Five50: Another internally restaurant at Aria in Las Vegas, is a hip Five50 Pizza Bar. This is where you go for pizza if your in the area. We filled ourselves with pizza slices that would make a Pizzaiolo smile.
What do you get when a James Beard Award-Winning Chef puts his spin on classic East Coast style pizza? Five50 Pizza Bar, ARIA's exclusive joint venture with Chef and Restaurateur Shawn McClain. Combining the soul of the world's most iconic pizzerias with the dynamic of the greatest bar scenes, this come-as-you-are hot spot features signature pizza, a bold selection of craft beers and an inventive lineup of shared plates, small bites, handmade pastas and decadent desserts.

Fun and Games at Aria in Las Vegas
What trip to Vegas would be complete without playing a little poker game? So Aria hosted our group in a private poker tournament! Winner takes all! If you are looking to host your own private tournament let Aria set you up.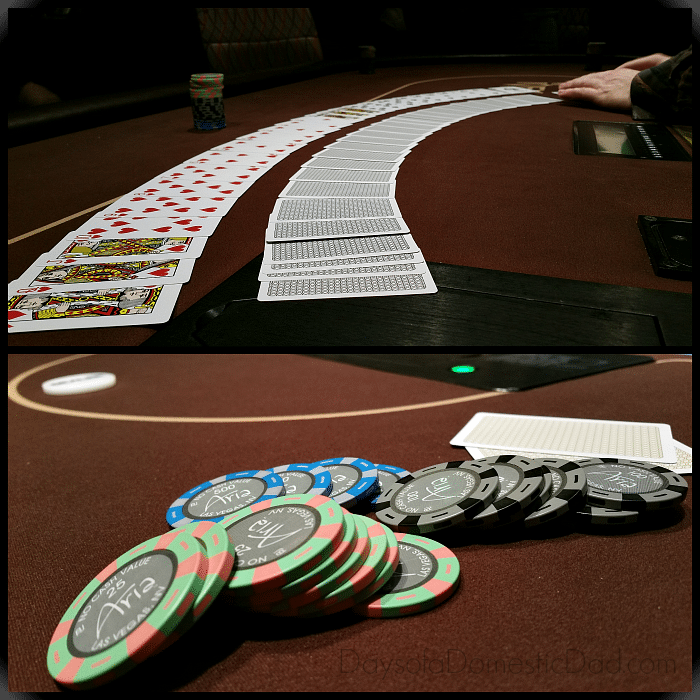 Poker – The cards are dealt, and the bets are in. Twenty-three other tables fill the room, but the crowd is gathered around yours. What is this moment, if not for the taking?
Slots – With a penny, a dollar or a $5,000 bet at one of the latest-themed machines, you're on your way to adding your name to ARIA's list of multi-million dollar jackpot winners.
Table Games – There is plenty of action at ARIA's tables to get your heart racing. A multitude of games, plush lounges and wonderful cocktails create just the right environment for your next big win. Who said you shouldn't feel pampered while you play? From one-of-a-kind cocktails to a fresh air ventilation system that filters out smoke, you'll find an elevated experience throughout our casino floor.
Race and Sports Booking – Located right next to Five50, you can't miss the 220 inch TV's in Aria. With a wall of 90 high-definition screens stands before you, making sure you see every pass, catch, basket, goal, home run and victory. Keep tabs on the race as your alma mater drives down the field, and send a knowing look to that fan of the opposing team. This intimate celebration of sports is meant to be shared with others.
This is just a small piece of what we did at Aria in Las Vegas. Be on the look out as I share about somethings to do with the kids in Vegas and about Aria's Spa.