Disclosure: This a sponsored post by Child's Play Communications. All opinions are my own.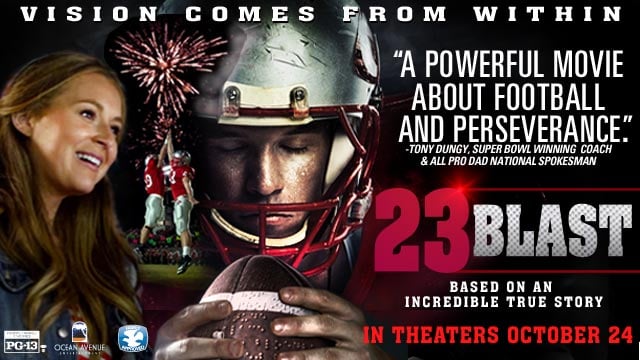 Have you ever had or know someone that has over come a life changing experience? For me, I have be fortunate to escape any serious injury or impairments in life. I have had the honer walking with some great people during a few challenging times in their life, ie: cancer, separations, and death.
23 Blast
23 Blast
is based on a true story, inspired by the true life events of Travis Freeman, who played football for Corbin High School in the mid 1990's despite being blind.
When a high school football star is suddenly stricken with irreversible, total blindness, he must decide whether to live a safe, protected life or to summon the courage through playing football to step back into the world. 23 Blast is based on the amazing, true story of Travis Freeman. A typical teenager growing up in a small town in Kentucky, Travis is a local hero on and off the field. In the prime of his youth, he is unexpectedly stricken with an infection that destroys his optic nerve; he becomes blind overnight. Under the influence of parents who love him, a physical therapist who challenges him, a coach who inspires him, and a best friend who he cannot bear to leave behind, Travis shows us what true bravery is by competing on the gridiron, helping his team advance to the State playoffs. We follow Travis and Jerry Baker, his closest friend, from the time they meet on the football field as kids through high school. Jerry's attraction to the dark side of teenage temptations threatens to pull the friends apart. It is only on the football field where they truly connect.
Overall, 23 Blast is one of my favorite football inspiring movies of all time. The story line alone, is like no other that I have seen. I can appreciate of determined the Travis family was to get through this time. As a father I loved it, to the point that it shows courage, and the willing to adapt. I seriously suggest checking out 23 Blast, and give a chance all the way to the end…you will be surprised.