Disclosure: This Schwinn SmartStart Bike post is sponsored by Mirum. The opinions are my own.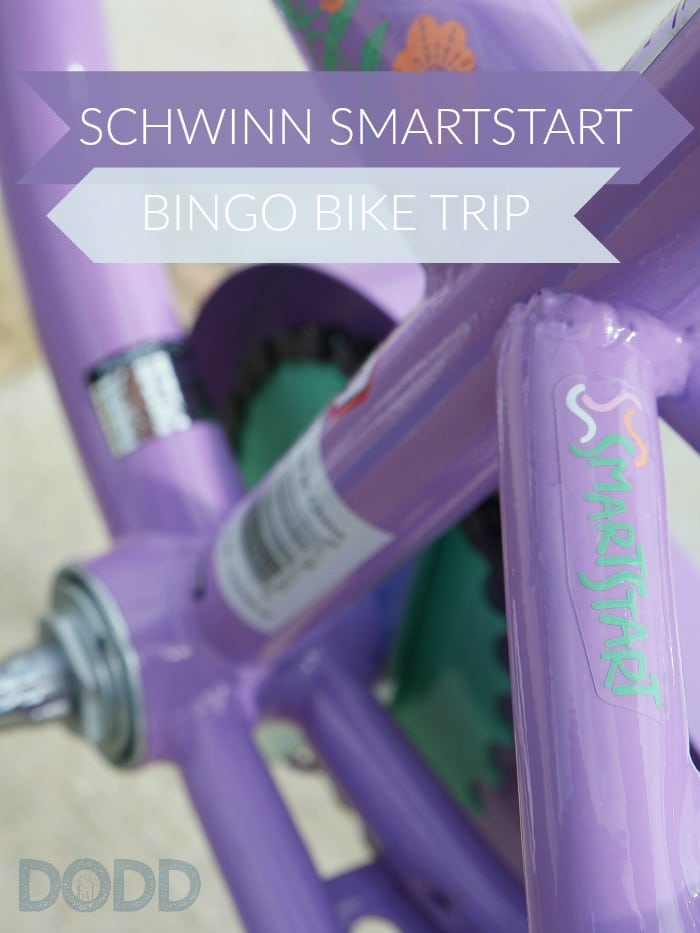 With such great weather there is no excuse for the kids to stay inside all day. Do you remember when you played outside until the sun started to go down? Moms had to call kids in for dinner. I think we would have played outside all night if we were allowed to.
It's a great time of year to encourage the kids to get some sunshine and exercise. We recently got a Schwinn SmartStart bike to help motivate the girls. We are making it even ore fun by playing Schwinn SmartStart Bike Trip Bingo. This is a fun way for them to become more confident cyclists.
We decided on a Schwinn SmartStart 16" Sidewalk Bike JASMINE for the girls. We got ours at Acadamy. You can also find it at Toys"R"Us, Target, and Amazon.com.
This bike is designed with a child in mind, allowing for better steering with smaller handles. The seat is also smaller for better comfort and balance. The girls are less afraid of falling because this bike gives them a better sense of control than other bikes.
The Schwinn SmartStart bikes have what is called "fast-start gearing". This feature helps to reduce the top-speed. I am able to keep up while the bike is being pedaled. The girls really feel more confident if I am right behind them while they learn to pedal and stay upright.
Schwinn SmartStart Bike – Bingo
Schwinn SmartStart Bike Trip Bingo is a family activity that helps kids learn how to safely ride their bikes. The concept is based on the popular game of bingo using cards. You just need to print out the Bike Trip Bingo cards and you are off cycling.
You also have a chance to win a Schwinn SmartStart prize pack when you play this game. Take some pictures of your family playing the game and upload them to social media using the hashtag #SchwinnBingoSweepstakes. Then, log into your Twitter, Instagram, Pinterest, or Facebook accounts through the widget below and select a photo you have already posted that uses the hashtag #SchwinnBingoSweepstakes.
Schwinn SmartStart Bike Giveaway