Netflix has just released DreamWorks 5th season of The Adventures of Puss in Boots. This is exciting for my girls who love following Puss and Dulcinea as they battle all sorts of monsters and villains.
THE ADVENTURES OF PUSS IN BOOTS on Netflix
The season begins after the blood wolf has been destroyed and Dulcinea is given the distinction of being the new town hero by Puss. Puss appoints himself as her sidekick, according to ancient ritual and protocol. But, this doesn't sit well with Dulcinea, as she really doesn't want to be the hero or protector of San Lorenzo. Nor does she want Puss as an annoying sidekick.
As the portal to the Netherworld opens up, monsters called chicken things descend on the town of San Lorenzo and together Puss and Dulcinea fend them off and run them out into the dessert. The whole thing is quite fantastic. And, the cast of characters is extremely amusing and widely creative.
In typical DreamWorks fashion, the animation is spectacular. All the characters are very life-like and have distinctive personalities. There is so much action in this new season as Puss, Dulcinea, and the Junior Puss Squad travel to the Netherworld to try to save San Lorenzo from destruction by the hordes of strange monsters.
My girls love watching this and other DreamWorks and Netflix original series at home on our large screen TV and while we are on the road. It is just so easy for them to stream Netflix anywhere. I am fine with watching an episode with them once. But, they will watch each episode over and over, thanks to limitless streaming and no commercial interruptions.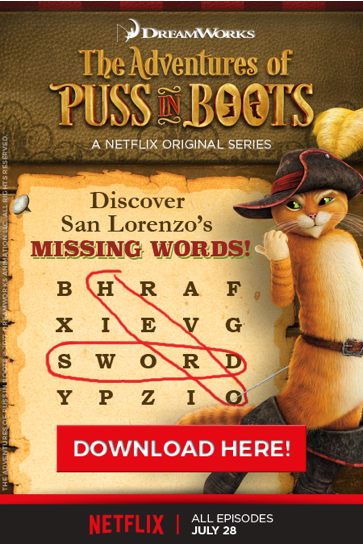 The new season of The Adventures of Puss in Boots on Netflix started July 28, 2017. All episodes of season 5 are available now. You can also catch up on seasons 1, 2, 3, and 4, in case you missed anything leading up to the newly released episodes.
Catch a glimpse of what season 5 is about by checking out the trailer.