Whether you enjoying cooking in the kitchen or not, there are appliances that you should have available in your kitchen that will make cooking much easier and more enjoyable. With more of these appliances, it'll save you a lot of time and effort. Here are the best appliances to have in your kitchen.
Coffee Maker
Coffee makers are a lifesaver when it comes to waking up early in the morning. You can crawl out of bed, stick it on and within a minute or two, you'll have freshly brewed coffee. As technology advances, coffee makers have become more, and more advanced and many now come with their own milk frothers and a combination of making coffee with either pods or beans. They're not that pricey either, and you can buy a lot of the coffee in bulk to save you money. Coffee makers also remind you of what you get in a hotel so every morning you have a coffee, you'll have that feeling of luxury.
Slow-Cooker
A slow-cooker is a great way of making delicious dishes and having to do very little cooking in the process. Also known as crock pots, either one great for those who have a busy life. You can prep the meal, chuck it all in the slow cooker and go to work for the day. When you come back, you'll have a meal that's ready to be served as well as a lovely fragrance throughout your home. The same can be done overnight, so it's handy for those who don't have enough time on their hands to make great dishes. It's great for family households but also great for bulk cooking, so you have leftovers to tide you over for the next few days.
Soup Maker
Soup makers are great all year round but especially during the cooler months when you may want a winter warming lunch while at work. Soup makers come in a variety of styles, but the best ones are those where you can simply chuck all your chopped ingredients in, add the stock water and leave it to cook and blend together. Some come with a few different settings where you can blend it in a smooth soup or a chunky one depending on your preference. With soup makers, you can get experimental with your ingredients, and it encourages you to try something different each week.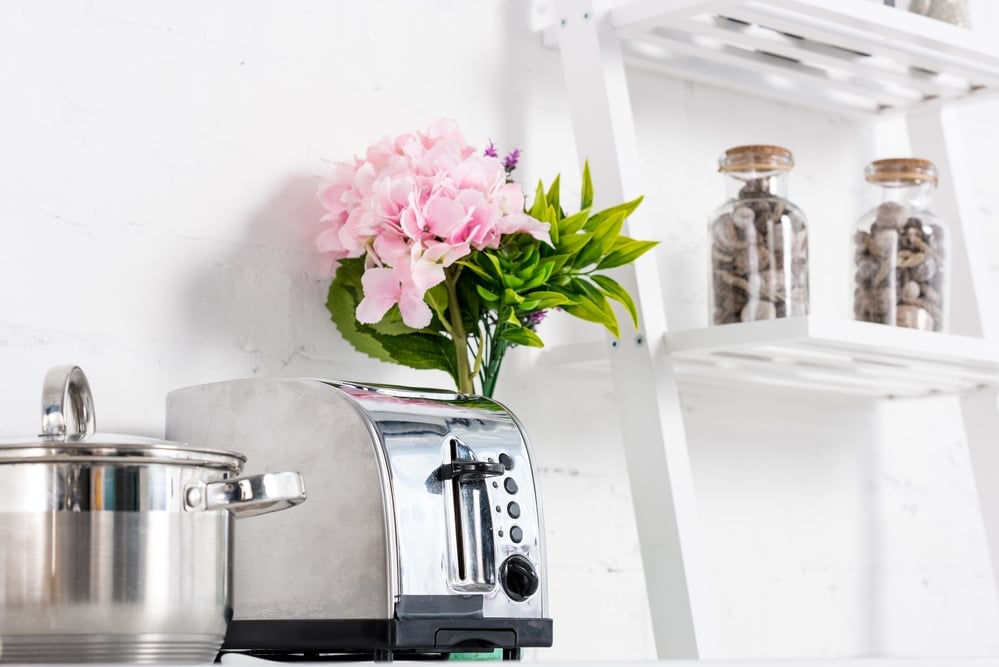 Toasters
A toaster is an essential in your kitchen, just like a microwave or kettle is. It's the most basic of appliances, but it's needed for when you might want a quick lunch or dinner that will take just a few minutes to make. Toasters can fit a variety of bread types in it, and you can get ones that are standing or toaster ovens which are great for making toasties and for grilling and melting the cheese. Toaster ovens will certainly go down well with the kids in your household as they watch the food cooking in front of their eyes.
Food Blender
Blenders are great for mixing a variety of ingredients to make sauces, juices and soups. This is slightly different than a food processor in that it just blends one or two ingredients together. Its motor is going to be generally less powerful than that of a food processor, and the blades are less powerful. Blenders are usually much smaller in size and thinner so they can slot away into a cupboard or sit on top of your kitchen worktop. Some food blenders will have the ability to break down frozen food, but it's important to make sure it does before you try as it could end up damaging the blades and rendering it useless.
Kitchen Aid
If you fancy yourself a bit of a baker, then a kitchen aid is something that's essential for any baker. Any regular baker will know how laborious it is to stir mixtures and knead the dough. This appliance makes it much easier, and you can leave it to mix your ingredients while you get on with other prep work. Mixers make it easy to combine both wet and dry ingredients, and some will come with detachable dough-hook attachments for kneading. Kitchen Aids can be quite expensive, but they are certainly worth the investment if you enjoy baking and it's something to do with the rest of the household as a family.

The size of your kitchen may limit the number of appliances you have, but just a few of these are going to make your life much easier.