Here in Texas it is common to hear, "What kind of truck do you drive?" Some around here would say that truck market belongs to the Ford Motor Company. Considering the Ford F-series trucks have run the roads for over 65 years, it is not hard to see why they think that way. I personally have a 2000 F-150 that I have driven for the past couple of years. The power, style, functionality and durability are all features I enjoy with my truck. Of course, since I have 7 in my family, it is a little hard to squeeze all of us in, but, when it is just Staci and I with the younger girls, we all fit perfectly. And as much as I like my 2000 model, I am already eyeing the Ford F-150 model.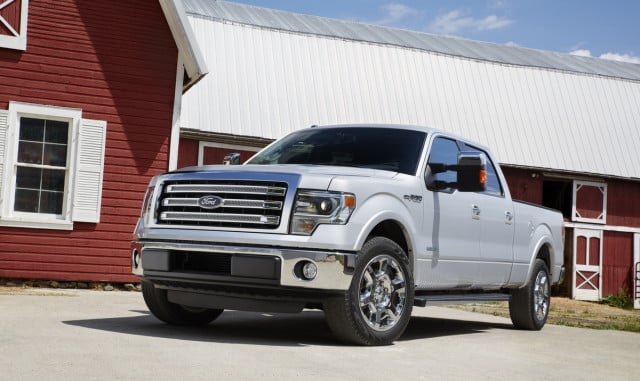 Ford F-150
Ford's Atlas Concept vehicle is beautiful and may signal new changes to the truck market. The Ford Motor Company has stretched to be the leader in truck innovation, toughness, and comfort. Some of the features of the Atlas Concept are:
Next-generation EcoBoost®engine
Hidden cargo ramps
Integrated roof carrier
Dynamic Hitch Assist, help hitching a trailer without a spotter
Active Grille Shutter, improve aerodynamics to save gas
Forward collision warning with brake support
Blind Spot Information System (BLIS®)
Tailgate assist helps close gate
Tailgate dampers slow tailgate fold-down
Electronically controlled, fuel-saving transmission
Washable seating fabric
Ambient lighting
LED headlamps that are brighter than HID or halogen lamps
Marc Lapine
I recently visited with Marc Lapine, the Consumer Marketing Manager for Ford Motor Company. Marc has been with Ford for the past 17 years and is a wealth of knowledge, especially when it comes to the F-150 EcoBoost. The development and execution of the F-150 EcoBoost Torture Test was just one of Marc's many projects with Ford. I was able to ask Marc a few questions on how the Ford F-150 would work as a family vehicle for someone like myself.
Ford's F-Series have been leaving an impression for close to 65 years in the truck market. What is going to be one or two things that will set the F-150 apart from others?
From a design stand point, it will be very well received and the design concept has something similar to the Ford Atlas concept truck.

Features like the BackUp Assist are going to set the Ford F-150 apart. A lot of pick-up truck owners do a lot of towing and going up a trail is frustrating. With the trailer backup assist, you don't use the steering wheel, but instead you will use a sort of rocker switch on the dash to guide the trailer.
What benefit would I see the most on the Ford F-150 pickup truck for my family?
The EcoBoost will be the best feature for a family, as well as for those using the Ford F-150 as a work truck. With the EcoBoost engine, there is still a sense of economic value without any power loss. The truck will have many new changes as far as the available features and options, and they are all my favorite.
If you were to choose from the Ford F-150 line, which would you own for your own family of 5? And be satisfied with safety and comfort?
I would definitely get a king cab or a crew cab for extra added leg space for my children. As far as safety, I'm in the position here at Ford to receive letters and emails from Ford owners. I read email after email thanking Ford for building a solid and safe truck that saved their life from an awful accident. I see photos of F-150 pick up trucks mangled, and yet the occupants can still walk away. So, seeing first hand how a F-150 can protect its passengers, I feel confident it will take care my family.
Family Vehicle
Depending on your need for a pick-up truck, work or pleasure, I can see the Ford F-150 giving you a nice, healthy balance between both. So whether you are handling a good-size payload, or hauling the family to the lake for the day, the Ford F-150 truck series brings the full package of power, comfort, handling and safety to you and your family.
Social Media
For more information about Ford Motor Company follow along on Twitter of like Ford on Facebook.
Please Share, What Do You Look For In A Family Vehicle? Comment Below Thanks