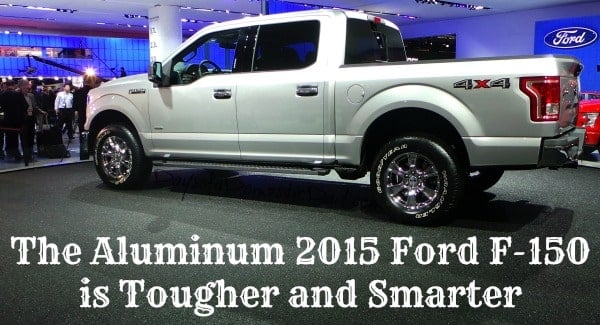 2015 Ford F-150 Looks to Boost Gas Mileage and Durability
As a truck fan, I am excited to see the direction the truck market is going and what is up ahead. I believe Ford has taken a huge step in what was needed for the truck sector. Ford has designed the 2015 Ford F-150 to be the footprint, to a smarter but tougher truck.
Smarter
There will be four engines available for the F-150: a 3.5L V6, a 5.0L V8, the 3.5L EcoBoost and an all-new 2.7L EcoBoost. The 2.7-liter EcoBoost with standard Auto Start-Stop is engineered specifically for the next-generation Ford F-150.The high-output twin-turbo 2.7-liter EcoBoost V6 delivers power and performance in a stronger, smarter package.
"We've applied lessons learned from the 3.5-liter EcoBoost to the new 2.7-liter EcoBoost, but with new technologies that make this more efficient engine perform like a larger mid-range V8,"

Raj Nair – Ford group VP, global product development
Boosting the 2.7-liter EcoBoost's fuel efficiency is the debut of standard Auto Start-Stop technology in the F-150. This technology, specially tuned for truck customers, shuts off the engine when the vehicle is at a stop – except when towing or in four-wheel drive – to give drivers power on demand when they need it most. When the brake is released, the engine restarts quickly.
Tougher
The revolutionary part of the all-new F-150 is not so much in its appearance, but more to do with its use of military-grade aluminum-alloy that reduces the truck's weight by nearly 700 pounds.
However, it's important to note how and where Ford has applied this aluminum. Ford engineers actually increased the use of high-strength steel in the F-150 frame from 23% to 77% to make sure that it was stronger, more durable, and structurally rigid than the current F-150. According to Ford, the lighter truck with its stronger frame has an increased towing and hauling capability with better efficiency, to boot.
Smarter
If smarter is better, then I can understand why the Ford Motor Company added plenty of technology to the 2015 Ford F-150.
Besides the all-new 2.7L Ecoboost engine, who wouldn't to have smarter trailer status for when you pulling a load. With the 8-inch screen, it should make it pretty visible to check out the 360-degree camera view. Ford also added LED headlamps that provide a better quality light and consume less energy than traditional headlamps. The 2015 Ford F-150 will also offer smart driver-assist technologies on the pickup for the first time. Those features include lane-keeping assist which monitors lane markings and alerts the driver if the truck drifts beyond the lane. It offers adaptive cruise control, a collision mitigation system, and a blind-spot-information system.
Tougher
When the 2015 Ford F-150 was introduced at the North American International Auto Show in January, I was impressed by the look. I understand that the 2015 screams Ford, but I see continued style and class.
Overall
There's too many details and features to cover in one article, including specs on the all-new 2.7-liter EcoBoost engine option. However, we know one thing's for sure: The 2015 F-150 is both tough and smart.